Find a Farrier in Buckinghamshire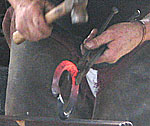 Find a farrier in Buckinghamshire for shoeing your horse or for barefoot hoof trimming.
A good farrier will aim to give the horse owner and their horse or pony the best possible farriery service to promote its well-being and usefulness over a long and active equine life.
Finding the proper farrier to work with is really important. You will want to be able to have a good working relationship with your farrier that will last for the lifetime of the horse or pony.
Dain Atherden [DipWCF] - Lee Common
The Old Police House, Oxford Street, Lee Common, Bucks HP16 9JH
Telephone: 01494 837300 / 07719 044885
Frazer Atherden [DipWCF] - Lee Common
The Old Police House, Oxford Street, Lee Common, Buckinghamshire, HP16 9JH
Phone: 01494 837300 / 07907 014198
Carl Bettison [AWCF HONS] - Aylesbury
Bridleways Farm, Little Meadle, Aylesbury, Buckinghamshire, HP17 9UG
Tel: 01844 273404
J.E.B Farriery Services, Jake Bingham [DipWCF ] - Aylesbury

J.E.B Farriery Services
Jake Bingham DipWCF
Address : 7 Chapel Road, Ford, Aylesbury, Bucks HP17 8XE
email : contact@jebfarriery.co.uk
Web: www.jebfarriery.co.uk
Contact number : 07470 260900
Shane Brennan [DipWCF] - Wooton Underwood
The Old Mill House, Church Farm, Wooton Underwood, Aylesbury, Bucks HP18 0SA
Mobile: 07932 418343
Jason Brown [AWCF] - Chalfont St Giles
55 Deanway, Chalfont St. Giles, Buckinghamshire, HP8 4JX
Phone: 07760 366697 email: littlekeysforge@googlemail.com
David Cherrington - DipWCF
New Pasture Farm, Bedford Road East, Warrington, Olney, Bucks MK46 4HW
Contact 01604 696854 / 07880 852779 email: deecherrington@gmail.com
Samuel Coad [DipWCF] - Botolph Claydon
Pond Cottage, 18 Orchard Way, Botolph Claydon, Buckinghamshire MK18 2NG
Phone: 01296 713191 or 07719 273029 email: sam@jcoad.co.uk
Crendon Farriers Ltd - Aylesbury
General shoeing, trimming and corrective farriery.
2 Sycamore Close, Long Crendon, Aylesbury, Buckinghamshire HP18 9BN
Phone: 07973 693712
John Crompton [DipWCF] - Chesham
Farriery and Hoofcare services. A well established farrier based in Chesham and surrounding areas with over 30 years of experience.
Tiles Farm, Asheridge, Chesham, Bucks HP5 2XB
Telephone: 01494 758637 / 07710 390970
Nigel Crothers [AWCF] - Mentmore
Woodlands, Mentmore, Buckinghamshire, LU7 0QJ
Phone: 01296 662473 / 07966 184387 email: Billy@handmadeshoesltd.co.uk
Victoria Eales [DipWCF] - Stony Stratford
St Giles Cottage, 22 Vicarage Road, Stony Stratford, Milton Keynes, Bucks MK11 1BN Phone: 01908 562293 or 07544 574092 email: follyforgefarriery@hotmail.co.uk
Laura Elvin [DipWCF] Farrier - Aylesbury
36 Whitehall Street, Aylesbury, Buckinghamshire HP20 2JW Phone: 07885 858629
Jason Edward Evans [DipWCF] - Aylesbury
36 Whitehall Street, Aylesbury, Buckinghamshire HP20 2JW Phone: 07785 112066
Graham Finnis [MSSF - DipWCF] - Aylesbury
6 Fall Close, Aylesbury, Buckinghamshire, HP19 9XR
Telephone: 01296 431280 email: okshoes@msn.com
Russell Foskett [DipWCF] - Aylesbury
50 Galsworthy Place, Aylesbury, Buckinghamshire, HP19 8LH
Telephone: 01296 429611
Timothy Fuggle [DipWCF] - Upper Winchenden
10 Main Road, Upper Winchenden, Aylesbury, Buckinghamshire HP22 6AX
Phone: 07771 798455
Stewart Gammage [DipWCF Class II] - Chalfont St Giles
20 Gordon Way, Chalfont St Giles, Buckinghamshire, HP8 4QX
Tel: 01494 872156 or 07968 007424
Jack Goodes [DipWCF] - Chesham
38 Ashfield Road, Chesham, Buckinghamshire HP5 3DL
Contact: 01494 786270, 07747 841135 email: jack_goodes@hotmail.co.uk
Oliver Gregory - Banbury
Majority of horse shoes are individually hand made in the forge . Barefoot trimming, plastic imprint glue on shoes, natural balance shoes, aluminium variants, vettec pad materials, non slip products and a complete range of therapeutic options available.
Dove House, Warkworth, Banbury Oxfordshire OX17 2AG
Contact: 07748 632288 enquiries@olivergregory.co.uk
Charles Harris [DipWCF] - Emberton
Rectory Farm, Clifton Reynes, Emberton, Milton Keynes, Buckinghamshire, MK46 5DN Contact: 07771 878087 email: charlierharris@yahoo.co.uk
Daniel Harman [AWCF] - Long Crendon
White Ash House, 3 Burns Close, Long Crendon, Aylesbury, Buckinghamshire HP18 9BX Phone: 07973 693712 email: daniel.harman@hotmail.co.uk
Samuel Head [DipWCF] - Milton Keynes
The Old Smithy, 37 Lower Way, Great Brickhill, Milton Keynes, MK17 9AG
Contact: 07980 822565 email: sam.head@horseshoes.co.uk
Gordon Howitt [DipWCF] - Milton Keynes
The Spinney, 4 Upper Weald, Cavertan, Milton Keynes, Buckinghamshire, MK19 6EL
PHone: 01908 561797 / 07850 978111 email: moonfleet@waitrose.com
Gary Huston [DipWCF] - Chesham
4 Barnes Avenue, Chesham, Buckinghamshire, HP5 1AP
Tel: 01494 791379 Mob: 07775-903253 Email: horse.shoeing@sky.com
David Jennings [DipWCF] - Stokenchurch
8 Anglesey Court, The Common, Stokenchurch, High Wycombe, Bucks HP14 3UB
Contact Number: 07877 324597
James Lang [DipWCF] - High Wycombe
C/O Penn Feeds, Hammersley Lane, Penn, High Wycombe, Bucks HP10 8HF
Phone : 07905 166416
John Lawther [RSS] - Great Missenden
41 Chiltern Road, Ballinger, Great Missenden, Buckinghamshire, HP16 9LJ
Frazer Macdonald [AWCF Class I] - Downley
11 Commonside, Downley, Buckinghamshire, HP13 5XG
Mob: 07950 704762 email: frazer.macdonald@yahoo.co.uk
Mr T Fraser Mackenzie Head [FWCF] - Brickhill
Haines Farm, Stoke Lane, Great Brickhill, Buckinghamshire MK17 9AQ
Tel: 01908 366855 / 07860 627015 email: uisqua@aol.com
Aaron Myall [DipWCF] - Milton Keynes
80 Fonda Meadows, Oxley Park, Milton Keynes, Bucks MK4 4TQ
Phone: 07710 445201
Martin Pearson [DipWCF] - Olney
6 Wagstaff Way, Olney, Buckinghamshire, MK46 5FB
Contact number: 07912 654374 email: m.pearson21@yahoo.co.uk
Terence Phillips [BA RSS] - Buckingham
The Forge, Lillingstone House, Lillingstone Dayrell, Buckingham, Bucks MK18 5AG
Tel: 01280 860334 / 07860 733485 email: horses@gashouse.co.uk
Daniel Prater [DipWCF] - Aylesbury
Lower Farm, Bicester Road, Waddesdon, Aylesbury, Buckinghamshire HP18 0JS
Phone: 07583 179463
Nicholas Record -[DipWCF] - Amersham
Finch Cottage, Finch Lane, London Road East, Amersham, Bucks HP7 9DS
Tel: 07836 573204
Kevin Rooney [RSS] - Aylesbury
23 Main Street, Bishopstone, Aylesbury, Buckinghamshire, HP17 8SF Tel: 01296 748233
Mark Rudge [DipWCF] - Aylesbury
19 Eaton Way, Aylesbury, Bucks HP21 8LA Phone: 01296 484389 / 07798 698013
Benjamin Senders [DipWCF] - Dunstable
2 The Retreat, Dunstable, Bedfordshire, LU5 4PZ Mob: 07872922877
Peter Spavins [DipWCF] - Drayton Parslow
The Dower House, 15 Church End, Drayton Parslow, Buckinghamshire, MK17 0JJ
Andrew Springham [DipWCF] - Wendover
25 Carrington Crescent, Wendover, Buckinghamshire, HP22 6AW
Phone: 07976 218342 email: andyspringham@aol.com
Joseph Terry [DipWCF] - Chesham
Rose Cottage, Lycrome Road, Chesham, Buckinghamshire, HP5 3LD Tel: 01494 775078 Mob: 079-76742283
Samuel Terry [DipWCF] - Chesham
30 Overdale Road, Chesham, Buckinghamshire HP5 2DZ
Contact: 01494 785320 / 07788 143819
Robert Timms - Aylesbury
37 The Firs, Brill, Aylesbury, Buckinghamshire, HP18 9RX Phone: 07714-556074
Nigel Turner [DipWCF] - Woburn Sands
17 Church Road, Aspley Heath, Woburn Sands, Milton Keynes, MK17 8TE
Phone: 07802 445138
Toby Turner [DipWCF] - Buckingham
18B West Street, Buckingham, Bucks MK18 2HE Contact: 07727 083772
Oliver Venn [DipWCF] - Oving
Apple Tree House, Whitchurch Lane, Oving, Buckinghamshire HP22 4EU
Tel: 01296 641771 Mobile: 07976 449402 email: ollievenn@hotmail.com
Sam Wade [DipWCF] - Botley
Wayside, 63 Botley Road, Botley, Chesham, BucksHP5 1XG Mobile no: 07768 394668
Joseph Whitehead [AWCF ] - Kingsey
Bayliss House, Risborough Road, Kingsey, Bucks HP17 8LY
Phone: 07809 627779 email: joewhiteheadfarrier@g.mail.com
Find a Farrier in Buckinghamshire- Directory of Bucks Farriers who hot shoe and cold shoe and barfoot trim horses. Remedial farriers in Buckinghamshire