Find a Farrier in GLOUCESTERSHIRE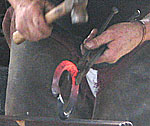 To help you find a farrier in Gloucestershire for hot or cold shoeing your horse or for hoof trimming. We have listings for Farriers in Berkshire.
TIP: Many farriers now sell horse hoof supplements and hoof oils and preparations - ask your farrier's recommendation to find products to help to keep your horse's hooves in prime condition.
Peter Balchin [BSc (Hons) FWCF] - Moreton In Marsh
8 Cottage Farm Court, Stretton on Fosse, Moreton In Marsh, Gloucestershire GL56 9SR Phone: 07775 805978
Alan Bailey [AFCL] - Tewkesbury
The Old Stables, Beckford Manor, Beckford, Tewkesbury, Gloucestershire GL20 7AF Phone: 078-31307233
Andrew Bennett [DipWCF] - Cheltenham
California House, High Trees, Shipton Oliffe, Cheltenham, Gloucestershire GL54 4JE Phone: 07855 409745
Arthur Brown - Moreton-In-Marsh
Grey Goose Cottage, Little Compton, Moreton-In-Marsh GL56 0SP
Phone: 01608 674652
Ralph Blatchford [DipWCF] - Stroud
Experienced in shoeing all types of equine from Shires to Shetlands! Services include Remedial and Corrective Farriery including Corrective Shoeing, Laminitics, Bar Shoes Extensions, Pads and Glue. Member of the Farriers Registration Council British Farriers and Blacksmiths Association (BFBA) Accredited. Registered in England and Wales.
Grove Ville Rodborough Hill Stroud, Gloucestershire GL5 3RH
Contact: Mobile 07411 716992 (Inc. Emergencies) Landline: 01453 757044
Thomas Burt [DipWCF] - Brimpsfield
Apple Tree Cottage, Brimpsfield, Gloucester, GL4 8LD Phone: 07973 177210
Peter Cairns [DipWCF] - Rendcomb
Park Cottage, Rendcomb, Nr Cirencester, Gloucestershire GL7 7ER
Phone: 01285 832394
James Carter [DipWCF] - Gloucester
15 Sycamore Close, Podsmead, Gloucester GL1 5TY Phone: 07912 855529
Timothy Challoner [AFCL] - Gloucester
The Cotch, Corse Lawn, Gloucester, GL19 4ND Phone: 01452 780553
Liam Chappell [DipWCF] - Cheltenham
1 Westfield Cottages, Notgrove, Cheltenham, Gloucestershire GL54 3BX
Phone: 07584 068441 email: grovehouseforge@gmail.com
Stewart Coid [DipWCF] - Cirencester
Anvil Cottage, Daglingworth, Cirencester, Gloucestershire GL7 7AE
Phone: 01285 643915 / 07973 625519
Frederick Cox [DipWCF] - Langford
10 Leys View, Langford, Gloucestershire GL7 3LH
Phone: 07793724791 email: fred_cox@hotmail.com
David Dawson [DipWCF] - Cirencester
6 May Tree Close, Coates, Cirencester, Gloucestershire GL7 6NQ
Phone: 07968 734679
Julian Day [DipWCF] - Coberley
Miles Churn Cottage, Seven Springs Cottages, Coberley, Cheltenham GL53 9NG
Phone: 01242 870385 / 07768 961051
Nicholas Deacon [DipWCF] - Stroud
28 Butt Street, Minchinhapton, Stroud, Gloucestershire GL6 9JS
Phone: 07970 280255 email: hoofernick@hotmail.co.uk
Sean Dunn [FdSc DipWCF] - Cheltenham
Cranleigh, Hyde Lane, Swindon Village, Cheltenham, Gloucestershire GL51 9QN
Phone: 07712 186566 email: sdnnfarriery@hotmail.co.uk
Abdul Hamid Omar Fakhouri [DipWCF] - Bourton On The Water
Gardeners Cottage, Whiteshoots Hill, Bourton On The Water, Gloucestershire GL54 2LE Phone: 01451 812809
Graeme Fleet [DipWCF] - Quedgeley
35 Carter's Orchard, Quedgeley, Gloucester, Gloucestershire GL2 4WB
Phone: 01452 721234 / 07747 113852 email: gwynnfleet@blueyonder.co.uk
David Fudge [AFCL] - Upton St Leonards
Crows Nest Farm, Upton Hill, Upton St Leonards, Gloucester, GL4 8DF
Phone: 01452 814261
Adam Guyton [DipWCF] - Stroud
Briardale, Cirecenster Road, Minchinhampton, Stroud, Gloucestershire GL6 9EL
Phone: 07811 101831
Shaun Hankinson [DipWCF] - Stroud
Victory Cottage, St Mary's Way, Browns Hill, Stroud, Gloucestershire GL6 8SW
Phone: 01453 885771 / 07802 633813
Steven Hinton [DipWCF] - Lydney
1 Westleigh Villa, St Swithins Road, Oldcroft, Lydney, Gloucestershire GL15 4NF
Phone: 01594 510285 / 07581 140635 email: stevehintonfarrier@hotmail.com
Paul James [DipWCF] - Longhope
Marshes Farm, Old Monmouth Road, Longhope, Gloucestershire GL17 0QF
Phone: 01452 830027 / 07774 437245
Timothy Kedward [DipWCF] - Drybrook
Yew Tree House, Hawthornes Road, Drybrook GL17 9BS Phone: 07711 340351
Ian Kimber [DipWCF] - Tewkesbury
6 Falcon Road, Tewkesbury, Gloucestershire GL20 7TJ Phone: 07968 060974
Evan Lloyd [DipWCF] - Gloucester
Bopoto, Slad, Stroud, Gloucester, Gloucestershire GL6 7QF Phone: 01452 813343
Lovell and Son Farriers - Pendock
Lovell and Son is a family business currently run by 5th generation farrier, Fraser Lovell DipWCF
Unit 1 Pillfields, School Lane, Pendock, Gloucestershire GL19 3PR Phone: 07859 004421 email: enquiries@lovellandson.co.uk Website: www.lovellandson.co.uk
Scott Manson Farriers
Mobile farriery service across Gloucestershire offering a friendly, reliable an efficient service to care for your horse's feet. Experienced in caring for horses, ponies and donkeys, shod and unshod, working and retired.
Contact: 07713 114479 email: info@scottmansonfarriers.co.uk
Phillip Martin [AWCF] - Moreton-In-Marsh
29 Lysander Way, Moreton-In-Marsh, Gloucestershire GL56 0GD
Phone: 07974 217334 email: phillip@pjmartinlimited.co.uk
Steven Martin [DipWCF] - Cheltenham
5 Notgrove Road, Cold Aston, Cheltenham, Gloucestershire GL54 3BP
Phone: 07775 792229 email: stevemartin.farrier@yahoo.co.uk
Michael McCormick [DipWCF] - Cirencester
The Farriers, Daglingworth, Cirencester, Gloucestershire GL7 7AE
Phone: 07973 635340 email: m_mccormick2@sky.com
Ryan McCormick [DipWCF] - Cirencester
The Farriers, Daglingworth, Cirencester, Gloucestershire GL7 7AE
Phone: 01285 657182 / 07792 831588 email: rmccormick2211@gmail.com
Cliff David Mills [RSS] - Dursley
33 Hopton Road, Upper Cam, Dursley, Gloucestershire GL11 5PD
Thomas Murray [DipWCF] - Toddington
38 Church Lane, Toddington, Cheltenham, Gloucester, GL54 5DQ Phone: 07595396806
Wesley Nicholls [DipWCF] - Tewkesbury
Croft Cottage, Back Lane, Bredon, Tewkesbury GL20 7LH Phone: 07818 037672
Glenn Nott [DipWCF] - Newent
Little Pound Farm, Newent, Gloucestershire GL18 1RW Phone: 07725 084446
Nicholas Partridge [DipWCF] - Brockhampton
Yew Tree Cottage, The Quarry, Brockhampton, Cheltenham, Gloucestershire GL54 5XL Phone: 01242 820387 / 07785 905139 email: Nicklou@farrierbrock.freeserve.co.uk
Daniel William Preece [DipWCF & AWCF]
Offersa reliable and efficient mobile service.Clients include leisure, professional, individual and large yards. He is available to provide therapeutic and remedial shoeing. Makes many of his own shoes to meet individual needs for the equine.
Phone: 07515407389 Email: DWPfarrier@gmail.com
Thomas Quirk [DipWCF] - Lydney
5A Admirals Close, Bream, Lydney, Gloucestershire GL15 6NH Phone: 01594 562188 Phone: 07809 205134 email: tom.quirk@tiscali.co.uk
Martyn Richardson [DipWCF] - Cirencester
86 Watermoor Road, Cirencester, Gloucestershire GL7 1LF Phone: 07525 772526
Edward Roberts [DipWCF] - Cheltenham
6 Dale Walk, Bishop's Cleeve, Cheltenham, Gloucestershire GL52 8PQ
Phone: 01242 702721 / 07912 951591 email: eaeroberts@hotmail.co.uk
Charles Sands [DipWCF] - Bourton On The Water
2 Fosseway Terrace, Lower Slaughter, Bourton On The Water, Gloucestershire GL54 2EY Phone: 07748 983723 email: charliesands@live.co.uk
James Slimmings [DipWCF] - Cheltenham
21 Merestones Drive, Cheltenham, Gloucestershire GL50 2SU
Phone: 07775 561079 email: jmslimmings@hotmail.co.uk
Alexander Strong [DipWCF] - Cheltenham
26 Whittington Village, Cheltenham, Gloucestershire GL54 4HD Phone: 0797 3318086
Stephen Tanner [DipWCF] - Horsley
5 Wallow Green, Horsley, Gloucestershire GL6 0PB Phone: 01453 833363
Neil Turner [DipWCF] Falls Mere Forge Ltd - Frampton On Severn
Falls Mere Forge Ltd, The Coach House, Frampton On Severn, Gloucestershire GL2 7EQ Phone: 01452 740059 / 07747 843175
Gary Wakefield [DipWCF] - Newent
Little Pound Farm, Oxenhall, Newent, Gloucestershire GL18 1RW Phone: 01989 82263
Jonathan Ward [DipWCF] - Quenington
Donkeywell Forge, Quenington, Gloucestershire GL7 5DH Phone: 01285 750711 Phone: 07771 994114 email: jonandfiward@supanet.com
Mark Wellfair [DipWCF] - Bentham
Orchard Farm, Bentham, Cheltenham, GL51 4TZ Phone: 01452 864571
John Westmore [DipWCF] - Stroud
Vale View Cottage, Brimscombe, Stroud, Gloucestershire GL5 2QW
Phone: 07971 556501 email: johnwestmore@hotmail.co.uk
Alan Wherrett [DipWCF] - Stroud
Flat 49 Stone Manor, Bisley Road, Stroud, Gloucestershire GL5 1JD
Phone: 07791 878757 email: alan@wherrett.de
Find a Farrier in Gloucestershire - Directory of Glos Farriers who shoe and trim horses. Hot and cold shoeing. Barefoot trimming of horses and ponies