Find a Farrier in Hampshire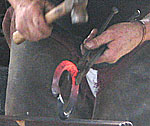 To help you to find a farrier in Hampshire suitable for shoeing your horse or hoof trimming we have provided this list of Farriers in Hants.
Ideally your horse will need to see a farrier every four to eight weeks, so it is important to find the right one and build a good relationship.
You rely on your farrier to help you and to give advice if your horse or pony should need remedial shoeing, needs to be specially shod for an event or when you need advice on hoof care.
James Bath [DipWCF] - Farnborough
32 Whetstone Road, Cove, Farnborough, Hampshire GU14 9SU Phone: 01252 513901 Phone: 07703 831915
Michael Brocks [RSS] - Alton
46 Greenfields Avenue, Alton, Hants GU34 2EE Phone: 01420 544129
Steven Butler [DipWCF] - Hook
1 Priory Farm Cottage, Andwell, Hook, Hampshire RG27 9PA Phone: 07843 096448
Richard Champness [FdSc AWCF] - Hook
Oakfield Farm, Taplins Farm Lane, Winchfield, Hook, Hampshire RG27 8SH
Telephone: 01252 844566 / 07887-537337
Stephen Corten - Tadley
Mill Reef, 33 Hawkley Drive, Tadley, Hampshire RG26 3YH
Phone: 07836 733833 email: stevecorten@btinternet.com
Paul Docker [DipWCF] - Tadley
Whistlejacket, Meadham Lane, Hannington, Tadley, Hampshire RG26 5UB
Phone: 01635 298331 / 07791 221974 email: pauldocker@hotmail.co.uk
Darren Doyle [DipWCF] - Tadley
3 Burnham Road, Tadley, Hampshire RG26 4QN
Phone: 0118 982 1072 / 07703 496492 email: farrier319a@me.com
Clive Duffin [RSS] - Fleet
28 Cranford Avenue, Church Crookham, Fleet, Aldershot, Hants GU52 6QU
Phone: 01252 625322 / 07860 607800
Nigel Fennell [AWCF] - Yateley
Nigel Fennell has nearly 23 years of farriery experience and holds both Diplomacy and Associateship examinations of the Worshipful Company of Farriers as well as an Approved Training Farrier. Nigel uses his own handmade shoes as well as some of the best manufactured horse shoe technology available.
6 Pondcroft, Yateley, Hampshire GU46 7UR Phone: 07887 501509
Paul Gray [DipWCF] - Andover
The Annex, Woodlands Grange, Clanville, Andover, Hampshire SP11 9JE
Phone: 07825 726587 email: swaff4@hotmail.com
David Griffiths [RSS] - Aldershot
Orchard Farm, Harpers Road, Ash, Aldershot, Hants GU12 6DB Phone: 07979 601553
Nicholas Hamilton [AWCF] - Basingstoke
51 Jersey Close, Popley, Basingstoke, Hampshire RG24 9PR Phone: 07739 965421
---
---
Peter Hampson [AWCF] - Bordon
Clifton House, Mill Lane, Lindford, Bordon, Hampshire GU35 0PE
Telephone: 01420 473963 / 07891 610234
William Hampson [DipWCF] - Basingstoke
The Forge, Turgis Green, Hook, Basingstoke, Hampshire RG27 0AH
Contact: 01256 886056 / 07772 092313
Thomas Hart [DipWCF] - Fleet
11 Bromfield Place, Fleet, Hampshire GU51 1EU Phone: 07771 538574
Todd Hinds [DipWCF] - Fleet
3 Rotherwick House, Ramsdell Road, Fleet, Hants GU51 1DA
Phone: 07946 462059 email: todd5774@gmail.com
David Huw Jones [DipWCF- Class II] - Andover
3 Frenches Farm Cottage, Little London, Andover, Hampshire SP11 6JQ
Phone: 01264 339562 / 07785 706098
Robert Meyrick [RSS] = Fleet
28 Aldershot Road, Fleet, Hampshire GU51 3NN Phone: 01252 673990
William Nailor [RSS] - Medstead
Iona, Hussell Lane, Medstead, Alton, Hampshire GU34 5PF
Phone: 01420 564002 / 07885 137261
Alan Smallpeice [RSS] - Passfield
The Spinney, Mill Lane, Passfield, Hants, GU30 7RP
Phone: 01428 751726 / 07836 634345
Martin Palmer [DipWCF] - Alton
19 Vicarage Road, Alton, Hampshire GU34 1NZ Phone: 07917 854462
T Smith Farriers - Bishop's Waltham
Specialise in the shoeing of performance horses. Regularly undertake remedial shoeing alongside veterinary surgeons, working together to ensure the best outcome possible.
Phone: 07763 672810
John Suttey - [AWCF] - Basingstoke
2 Ganderdown Cottages, Dummer, Basingstoke, Hampshire RG23 7LS
Philip Thumwood [DipWCF] - Yateley
57 Weybridge Mead, Yateley, Hants, GU46 7UX
Contact: 07917 885294 email: philthumwood@googlemail.com
Craig Tordoff [DipWCF] - Overton
9 Norris House, London Road, Overton, Hampshire RG25 3TN
Phone: 07826 851403 email: craig_tordoff@hotmail.co.uk
Luke Wilson - Southampton
Trimming, Hot and Cold Shoeing and Remedial Shoeing Work. Caters for large yards to individual clients. Fully mobile service offering hot or cold shoeing at a competitive rate. Carries a range of traditional and specialist horse shoes.
25 Brookwood Road, Southampton, Hants SO16 9AH
Telephone: 07879 217464 email: lukewilsonfarrier@gmail.com
Christopher Mark Woodman [DipWCF] - Aldershot
27 Field Way, Aldershot, Hampshire GU12 4UG Phone: 01428 653171
Find a Farrier in Hampshire - Directory of Hants Farriers providing hot and cold shoeing for horses. Remedial and corrective shoeing for horses in Hampshire