Find a Farrier in Herefordshire. Hot / Cold shoeing, Trimming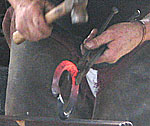 We have provided this list to help you to find a farrier in Herefordshire for shoeing your horse or hoof trimmingof Farriers in Hants.
Ideally your horse will need to be seen by a farrier every four to eight weeks to keep his feet in a healthy condition. So it is important to find the right farrier for you and build up a good relationship.
You rely on your farrier to help you and to give advice if your horse or pony should need corrective shoeing, or requires special shoeing, or if you need advice on horse hoof care.
Matthew Allen [DipWCF] - Weobley
4 Orchard Cottage, Ledgemoor, Weobley, Hereford, Herefordshire HR4 8RL
Email: mattallen4@yahoo.co.uk Wesley
James Clarke [DipWCF] - Bromyard
2 Pye Corner, Collington, Bromyard, Herefordshire HR7 4NE
Phone: 01885 410667 / 07530 947593 email: hannahmatravers93@yahoo.co.uk
David Finnegan [DipWCF] - Hereford
1 Pullmans Close, Hereford, Herefordshire HR1 1ET Phone: 07790 613687
Chris Folly [DWCF ]
Hot and cold shoeing for Shires to Shetlands. All shoes handmade. Gloucestershire/Herefordshire covered.
Tel: 07815 058624 or 01531 890330.
Mark Green [DipWCF] - Hay on Wye
Fairbank, Clifford, Hay on Wye, Hereford, HR3 5HA Phone: 01497 831531
Paul Griffiths [DipWCF] - Shobdon
April Cottage, Shobdon, Leominster, Herefordshire HR6 9LX
Jack Harper [DipWCF] - Ross-On-Wye
Brook Farm, Quarry Lane, Gorsley, Ross-On-Wye, Herefordshire HR9 7SH
Phone: 07976 485737 email: jackharper505@hotmail.co.uk
Rodway Heathfield [DipWCF] - Yarkhill
2 Pound Cottage, Yarkhill, Hereford, HR1 3TA
Mark Jones [DipWCF] - Dorstone
1 Oaklands Place, Dorstone, Hereford, HR3 6AR Phone: 01981 550442
Michael Jones [DipWCF] - Wormbridge
Old Mill Farm, Wormbridge, Hereford, Herefordshire HR2 0EA
Phone: 01981 570516 / 0788 5265742 email: farrier.belpha@btinternet.com
Adrian Legge [DipWCF] - Bredenbury
Yew Tree Cottage, Bredenbury, Bromyard, Herefordshire HR7 4TJ
Phone: 01885 482572 email: adrian.legge@yahoo.com
Robin Lowe [DipWCF] - Hereford
Little Dunwood Farm, Weobley Marsh, Hereford, HR4 8RR
Phone: 01544 318162 / 07970 808489 email: rlowe22@aol.com
Jason Medcroft [DIPWCF] Registered Farrier
Traditional, corrective and remedial shoeing. From foot trims and shoeing for one horse owners to racing, competition and stud yard farriey services.
All enquiries please phone 01386 834579 / 075820 56440
---
---
Lee Morris [DipWCF] - Leominster
5 Cranes Lane, Leominster, Herefordshire HR6 8DH
Phone: 01568 615651 / 07890 720417 email: farriermorris@hotmail.co.uk
Anthony Mortimer - Leominster
Oaklands Lodge, Docklow, Leominster, Herefordshire HR6 0RX Phone: 07812 757949
Ian Oliver [DipWCF] - Avenbury
The Kilns Bungalow, Avenbury, Bromyard, Herefordshire HR7 4LD
Patrick Peacock [DipWCF] - Ross On Wye
6 Garron View, Llangarron, Ross On Wye, Herefordshire HR9 6NH
Phone: 07972 394796 email: paddyfarrier@yahoo.co.uk
Wesley Powell [DipWCF] - Wormbridge
The Folly, Wormbridge, Hereford, Herefordshire HR2 9DJ
Contact: 01981 570243 / 07900 002289 email: shoe213048@aol.com
Wayne Preece [FWCF ] Professional Farriers Ltd - Kingstone
Professional Farriers Ltd, 1 The Lodge, Kingstone, Hereford, Herefordshire HR2 9HN Phone: 07932 759757 email: wpreece104@btinternet.com
Matthew Price [DipWCF] - Bridstow
Pool Mill Cottage, Bridstow, Ross-On-Wye, Herefordshire HR9 6QE
Phone: 01989 566876 / 07714 292471 email: matthewrprice@hotmail.com
Roger Price [DipWCF] - Hernhill
Brickyard Cottage, Hernhill, Lugwardine, Hereford, Herefordshire HR1 4AQ
Phone: 01432 850725
Ryan Price [DipWCF] - Leominster
Brockmanton Hall, Pudleston, Leominster, Herefordshire HR6 0QU
Phone: 01568 760695
Edward Simcock [DipWCF] - Hereford
Marsh Farm, Preston Wynne, Hereford, Herefordshire HR1 3PE
Contact: 07850 936876 email: edsimcock@hotmail.co.uk
Jonathan Simpson [DipWCF] - Leominster
Little Acre, Newtown Lane, Leominster, Herefordshire HR6 8QD
Phone: 01568 614596 / 07970 148599 Evening: 01568 614539
Samuel Snow [DipWCF] - Ledbury
Traditional and corrective farriery services, barefoot trimming.
1 Cowarne Court, Lower Eggleton, Ledbury HR8 2UF
Phone: 07854 168436 email: thesnows@hotmail.co.uk
James Stephens [DipWCF] - Risbury
3 The Stables, Risbury, Leominster, Herefordshire HR6 0QE
Phone: 07951 490493 email: james.stephens@hotmail.co.uk
Richard Underwood [DipWCF] - Kimbolton
The Smithy, Slaughter Castle, Kimbolton, Leominster, Herefordshire HR6 0ET
Phone: 01568 612388 / 07836 225940
Thomas Wait [DipWCF] - Hereford
15 Perryfield Estate, St Owens Cross, Hereford, Herefordshire HR2 8LN Phone: 01989 730476 Phone: 07826 924507 email: farriertom@googlemail.com
Dominic Wheelwright [DipWCF] - Leominster
Flat 3, Berrington Hall, Berrington, Leominster, Herefordshire HR6 0DW
Phone: 01568 615721 Ext 110 / 07590 894914 email: Dwheelwright@btinternet.com
Graham Young [RSS] - Weobley
Ivy Cottage, Shoals Bank, Weobley, Herefordshire HR4 8QP Phone: 07979 471964
Find a Farrier in Herefordshire- Directory of Farriers providing hot and cold shoeing for horses. Remedial and corrective shoeing for horses in Herefordshire. Barefoot Trimming