Find a Farrier in Somerset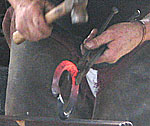 To help you find a farrier in Somerset for shoeing your horse or barefoot hoof trimming we have compiled this list of Somerset Farriers.
Ideally your horse will need to see a farrier every four to eight weeks, so it is important to find the right one and build a good relationship.

A good farrier will shoe a horse as an individual according to its breed, type or specific use and evaluate a horse as a whole in its environment -considering its conformation, temperament, use, condition, nutrition and management.
Should your horse need remedial shoeing a good farrier will be prepared to discussing foot conditions and diseases with your vet.
Robert Allen [DipWCF] - Farrier in Yeovil
61 Coronation Avenue, Yeovil, Somerset BA21 3DZ Phone: 01935 425515
Ian Archer [DipWCF] - Nailsea
30 Blakeney Grove, Nailsea, Somerset BS48 4RG Phone: 01275 855421
Andrew Ball [DipWCF] - Bristol
The Forge, Winford, Bristol BS40 8EH Phone: 01275 472356
Ian Boniface [DipWCF] - Bristol
1 Broad Croft, Chew Magna, Bristol BS40 8QF Phone: 01275 333527
email: ian@farrier.fsnet.co.uk
Thomas Bougourd [DipWCF] - Clevedon
38 Halswell Road, Clevedon, North Somerset BS21 6LE
Phone: 079673 27854 email: tbougourd@hotmail.co.uk
William Bougourd [AWCF] - Nailsea
Elm Tree Farm, Nailsea Wall Lane, West End, Nailsea, North Somerset BS48 4DE
Phone: 01275 856456 / 07860 339591
Christopher Brett [DipWCF] - Frome
17 Summerhill, Frome, Somerset BA11 1LT Phone: 07971-538534
Liam Collins [DipWCF] - Congresbury
15 Station Close, Congresbury, Bristol BS49 5EE
Phone: 07584 166834 email: lcfarrier@hotmail.com
Robert Creedy [DipWCF] - Taunton
Brambles, Tithill Lane, Bishops Lydeard, Taunton, Somerset TA4 3LY
Contact: 01823 433972 / 07745 245809
Stephen Crutcher [DipWCF] - Wincanton
Bude Cottage, Bayford, Wincanton, Somerset BA9 9NL Phone: 01963 34384
James Darlington [DipWCF] - Crewkerne
2 Lower Street, Merriot, Crewkerne, Somerset TA16 5NN Phone: 01460 76037
Andrew Dennis [DipWCF] - Wellington
15 Church Drive, West Buckland, Wellington, Somerset TA21 9LZ
Phone: 01823 663230 Phone: 07768 210658 email: afdennis-farrier@hotmail.co.uk
Daniel Downton [DipWCF] - Yatton
81 Claverham Road, Yatton, North Somerset BS49 4LD Phone: 01934 838588
Paul Dunning [RSS] - Chard
Mistletoe Farm, Eleighwater, Chard, Somerset TA20 3AF
Contact Numbers: 01460 65515 / 07850 150233
Gordon Edwards [RSS] - Minehead
Summering, Wheddon Cross, Minehead, Somerset TA24 7AT Phone: 01643 83549
Greig Elliott [DipWCF Hons] - Bristol
Hill View, Kent Road, Congresbury, Bristol BS49 5BD Phone: 07720 713166
Luke Ellis [DipWCF] - Frome
69 Oakfield Road, Frome, Somerset BA11 4JH
Phone: 07966-148817 email: luke@hotponyshoes.com
Roger Everett [DipWCF] Exmoor Farriery Practice - Minehead
Exmoor Farriery Practice, Conquest, Stone Cross, Exford, Minehead TA24 7PE
Phone: 01643 831248 email: r.everett414@btinternet.com
Christopher Green [DipWCF] - Somerton
The Stables, Coombe Hill, Keinton Mandeville, Somerton, Somerset TA11 6DQ
Phone: 01458 223899 Phone: 07595 727717
Bradley Greenham [DipWCF] - Burrowbridge
Withy Orchard, Stathe Road, Burrowbridge, Somerset TA7 0RY
Phone: 0777 0889480 email: brad252525@gmail.com
John Hankinson [AFCL] - Bridgwater
Stretcholt Farm, Red Lane, Stretcholt, Bridgwater, Somerset TA6 4SR
Phone: 07980 617255
James Hazell [DipWCF] - Alcombe
37 Staunton Road, Alcombe, Minehead, Somerset TA24 6DZ
Phone: 01643 709100 / 07803 136833
Nicholas Heath [DipWCF] - Glastonbury
Wayside, Catsham, Baltonsborough, Glastonbury, Somerset BA6 8PQ
Phone: 01458 851298 or 07976 162256
Toby Holliday [DipWCF] - Templecombe
38 Ash Walk, Henstridge, Templecombe, Somerset BA8 0QB Phone: 01963 362689
Richard Holmes [DipWCF] - Henstridge
3 Toomer Cottages, Henstridge, Templecombe, Somerset BA8 0PH
Phone: 0753 0664303 email: farrierboy@hotmail.co.uk
Paul Horner [BSc (Hons) AWCF] - Weston-Super-Mare,
The Forge, Hillend, Locking, Weston-Super-Mare, North Somerset BS24 8PQ
Phone: 07710 405050 email: phornerfarrier@btinternet.com
Matthew Housley [DipWCF] - Radstock
Qualified Farrier serving the Somerset, Wiltshire and Dorset areas. Mobile shoeing trimming and remedial shoeing for horses and ponies
Fox Cottage, Bays Lane, Moorwood, Oakhill, Radstock, Somerset BA3 5BN
Phone: 01749 841477 or 07926 102205
Kevin Legg [RSS] - Langport
Roman Farm, Park, Pitney, Langport, Somerset TA10 9AT
Phone: 01458 274374 / 07966 525258
Terence Lindsay [AWCF] - Yatton
The Coach House, 5 Westaway Close, Yatton, North Somerset BS49 4JS Phone: 01934 876798 Phone: 07889 362952 email: ianlindsayawcf@ukonline.co.uk
Therasa Luxton [DipWCF] - Highbridge
Southern Hayes, 10 Old Pawlett Road, West Huntspill, Highbridge, Somerset TA9 3RH Contact: 01278 321019 / 07760 665458 email: luxton54@gmail.com
Dale Maggs [DipWCF] - Milverton
17 Courtfield, Milverton, Somerset TA4 1NA Phone: 07894 126906
Andrew Manners [DipWCF] - Clevedon
The Coach House, c/o Clevedon Riding Centre, Clevedon Lane, Clevedon, North Somerset BS21 7AG Phone: 01275 851950 or 07768 736625
Thomas Martin [DipWCF] - Highbridge
Ferndale House, Wick Lane, Brent Knoll, Highbridge, Somerset TA9 4BU
Phone: 07805 190108 email: tommo.112627@gmail.com
David Matravers - Taunton
St Albans Farm House, Stowey Road, Fivehead, Taunton, Somerset TA3 6PP
Phone: 01460 281313
Mathew Meek [DipWCF] - Martock
The Cottage, Higher Street, Bower Hinton, Martock, Somerset TA12 6LT
Phone: 01935 825797 /07970 073061 email: mathew.meek@btinternet.com
Edward Menon [DipWCF] - Minehead
Stilemoor, Exford, Minehead, Somerset TA24 7NA Phone: 01643 831607 Phone: 07720 773367 email: edmenon007@googlemail.com
Dominic Northmore [DipWCF] - Axbridge
Cottage Farm, Brinscombe, Axbridge, Somerset BS26 2LH
Phone: 07867 574998 email: domthefarrier@gmail.com
Mitchell Norton [DipWCF] - Weston Super Mare
4 The Saffrons, Weston Super Mare, North Somerset BS22 7DP Phone: 07972103241 email: naileditfarrieryservices@hotmail.co.uk
Ian Notman [DipWCF] - Yeovil
5 Pound Close, Abbey Manor Park, Yeovil, Somerset BA21 3SD
Phone: 01935 706974 / 07862 257944
Benjamin Parker [DipWCF] - Minehead
Mill Cottage, Horner, Minehead, Somerset TA24 8HY Phone: 01643 863541
Phone: 07789 333125 email: bhrfarrier@hotmail.co.uk
Ross Parker [DipWCF] - Bristol
678 Whitchurch Lane, Whitchurch, Bristol, BS14 0EJ
Phone: 01275 833651 / 07958203855
Christopher Pell [AWCF] - Bruton
10 Brue Lands, Bruton, Somerset BA10 0HX
Phone: 07946 197043 email: chrispellfarrier@hotmail.co.uk
Nigel Perrott [DipWCF Hons] - Wincanton
School House Farm, Stoke Trister, Wincanton, Somerset BA9 9PE Phone: 079-66209540
Paul Phillips [DipWCF] - Chard
Mintons, Chard, Somerset TA20 2EJ Phone: 01460 929958 or 07818 801955
Nigel Phillips [DipWCF BII ] - Langport
Sutton Place, Langport Road, Long Sutton, Langport, Somerset TA10 9NQ
Phone: 01458 241057 / 07860 888834 email: nigelphillips@farrier578.freeserve.co.uk
Andrew Saunders [DipWCF] - Dulverton
24 Nicholas Close, Brushford, Dulverton, Somerset TA22 9AN
Phone: 01398 324591 or 07970 197897 email: bootsiesaunders@aol.com
James Sherring [DipWCF] - Bridgwater
8 Bush Road, Spaxton, Bridgwater, Somerset TA5 1BX Phone: 01278 671498
George Thatcher [RSS] - Bath
9 Flowerstone, Binegar, Bath BA3 4UQ Phone: 01749 840234 or 0421 505213
Robert Smail [DipWCF] - Glastonbury
1 Orchard View, Baltonsborough, Glastonbury BA6 8QH Phone: 07771 617878
Mark Smith [DipWCF] - Wincanton
12 Thornwell Way, Wincanton, Somerset BA9 9EN
Phone: 01149 812023 or 07973 437279 email: shoeingsmith1@aol.com
Michael Smith [DipWCF] - Wincanton
Basic Shoeing, Heavy Horse shoeing, Heart/Egg bar shoes Leather pads, equithane, wedge pads. All types or Remedial Shoeing in conjunction with your Vet. Basic foot trimming.
2 Manor Cottages, Wiveliscombe, Taunton, Somerset TA4 2TN
Phone: 01984 624429 / 07798 500909 email: mike-smith@farrier40.fsnet.co.uk
Lee Tibbatts [DipWCF] - Shepton Montague
Kingslea, Shepton Montague, Wincanton, Somerset BA9 8JW
Phone: 07803 725350 email: lee2tib@yahoo.co.uk
Alastair Townsend [DipWCF] - Chard
Plessey, Touchstone Lane, Chard TA20 1RB Phone: 07891 682152
Darren Tysoe [DipWCF] - Brushford
22 Nicholas Close, Brushford, Somerset TA22 9AN Phone: 07932 536488
Peter Vincent [DipWCF] - Cucklington
1 Ridgeway, Cucklington, Somerset BA9 9PZ
Phone: 07793 316406 email: clairehorsedentist@hotmail.com
Ryan Wadling [DipWCF] - Winscombe
19 South Hill, Winscombe, Somerset BS25 1JN
Phone: 07916 132303 email: ryanfarrier@btinternet.com
Hedley Webb [DipWCF] - Somerton
Cleers View Farm, Somerton Hill, Somerton, Langport, Somerset TA10 9AD
Phone numbers: 01458 272175 or 07818 035993 email: hedleywebb@mail.com
Simon Thomas Wheeler [DipWCF BII ] - Shepton Mallet
1 Lower Bagborough Cottages, Pylle, Shepton Mallet BA4 6QP Phone: 01749 830709
Tobias Wheeler [DipWCF] - Otterhampton
1 Crossway Cottage, Otterhampton, Bridgwater TA5 2PT Phone: 01278 653178
Benjamin White [DipWCF] - Williton
Orchard Way, Sampford Brett, Williton, Somerset TA4 4LB Phone: 01984 632180
Samuel White [DipWCF] - Watchet
2 Liddimore Farm, Watchet, Somerset TA23 0UA Phone: 01984 632126
Richard Wood [RSS] - Templecombe
8 Throop Road, Templecombe BA8 0HR Phone: 07973 190777
Find a Farrier in Somerset - Somerset Farriers providing hot and cold shoeing for horses. Remedial and corrective shoeing for all types of horses and ponies. Barefoot trimming