Find a FARRIER in WEST SUSSEX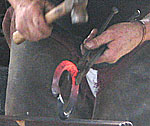 Choosing the right farrier to shoe or trim your horse or pony should take into consideration his or her experience, their reputation, area of expertise and, of course, their willingness to take you on as a new client.
Don't base your choice of farrier on low price or that they are a nice person to get on with. Of course these are important issues, but make sure that they are able to provide the sort of farriery service that you need, whether its traditional shoeing, natural balance shoeing, barefoot trimming or other remedial shoeing techniques.
To help you find a Farrier in West Sussex we have provided the listings with contact details below.
Adrian Brazier [DipWCF] - Easebourne
Badgers, 7 Dodsley Grove, Easebourne, West Sussex, GU29 9BE Tel: 01730 817502
Adrian Cox [DipWCF] - Fishbourne
Tumbledown Farm, Salthill Road, Fishbourne, Chichester, West Sussex PO19 3PY Contact Number: 07973 890658
Adrian Little [DipWCF] - Petworth
Flat 1, River Nurseries, River Lane, River, Petworth, West Sussex GU28 9AT
Contact: 07900 911553
Alan Kelly - Crawley
The Blacksmith Shop, Ifield Wood, Crawley RH11 0LE Phone: 01293 562029
Andrew Day [DipWCF] - Bosham
2 Brooks Lane, Bosham, West Sussex PO18 8LA
Phone: 01243 573662 / 07950 718364 E-mail: andrew280370@hotmail.com
Andrew Tolladay [AWCF ] - Bognor Regis
8 East Front Road, Pagham, Bognor Regis, W Sussex PO21 4SU
Mobile: 07977 131005, Email: andy.tolladay@btinternet.com
Bobby Craig [DipWCF] - Worthing
8 Vancouver Road, Worthing, West Sussex, BN13 2SW Phone: 07890 990009
Christopher Khai-Chew Khor [DipWCF Hons]
Little Burnt House, Burnthouse Lane, Cowfold, West Sussex RH13 8DH
Phone: 07884 257226
Christopher Peacock [DipWCF] - Steyning
Nash Vineyard, Horsham Road, Steyning, West Sussex BN44 3AA
Phone: 01903 813445 / 07850 339685 Email: nashvineyard@btinternet.com
Connor Parsons [DipWCF] - Tangmere
135 Campbell Road, Tangmere, Chichester, West Sussex, PO20 2HX
Phone: 07746 310024 Email: cpfarrier@aol.com
David East Farriers Ltd - Crawley
4 Nurserylands, Crawley, West Sussex, RH11 8RH Tel: 07811 985973
David Froggatt [AFCL] - Arundel
8 Dukes Road, Fontwell, Arundel, West Sussex BN18 0SP Phone: 07968 818133
David Nicholls [AWCF] - Slinfold
Total Foot Protection Ltd, Five Oaks Road, Slinfold RH13 0QW
Phone: 01403 791000 / 07973-104857 Email: djntfp@btinternet.com
David Mitchell [ BSc (Hons) FWCF ] - Billinghurst
3 Butts Meadow, Wisborough Green, Billinghurst, West Sussex RH14 0BT
Mobile: 07966 406916
David Stride - West Chiltington
Nettles, The Sinnocks, West Chiltington RH20 2JX
Contact Number: 01798 812894
Derek Leadbetter [AWCF] - Henfield
2 Tatlers Cottages, West End Lane, Henfield, West Sussex BN5 9RA
Phone: 01273 493339 Mobile: 07745 139213
George Everest [DipWCF] - Hassocks
62 Grand Avenue, Hassocks, West Sussex BN6 8DE Mobile Number: 07789 683304
Graeme Tame - DipWCF Hons - Coolham
Elm Cottage, Thakeham Road, Coolham, Nr Horsham, West Sussex RH13 8QD
Contact: 07889 775173
Graham Wells [AWCF] - Wisborough Green
Forge Cottage, Durbans Road, Wisborough Green RH14 0DS Phone: 01403 700399
Grant Laing [DipWCF] - Billingshurst
Leacroft, Coneyhurst, Billingshurst, West Sussex RH14 9DH
Phone: 07703-166010 Email: grant.laing@btopenworld.com
Grant Lichtenberg [DipWCF] - Findon
6 North End Cottages, Findon, Worthing BN14 0RH Mobile: 07932 066535
James Nash [DipWCF] - Horsted Keynes
2 Hamsland Cottages, Lewes Road, Horsted Keynes, West Sussex RH17 7DY
Mobile: 07900 683550 Email: cedar452@aol.com
James Williams [DipWCF] - Cuckfield
Meadow View, Whitemans Green, Cuckfield, West Sussex RH17 5DD
Mobile: 07780 007797 Email: jim.s.williams@aol.com
Jamie Henney [Dip WCF] - Rustington
All styles of farriery including natural balance shoeing, traditional horse shoeing, barefoot trimming and corrective and remedial shoeing.
Phone: 07866 694359.
Jan Facer [AFCL] - Dial Post
Potthill Farm, Honeybridge Lane, Dial Post, West Sussex RH13 8NX
Contact: 01403 711949 / 07719 702154
John Launder [RSS] - Chichester
The Bungalow, Halnaker, Chichester, Sussex PO18 0LF Tel: 01243 790381
Joseph Gillings [DipWCF] - Haywards Heath
1 Chailey Glimpse, Chruch Road, Scaynes Hill, Haywards Heath, West Sussex RH17 7NY Contact Number: 07875 178554 Email: joefarrier22@hotmail.co.uk
Joshua Driver [DipWCF] - Rudgwick
19 Furze Road, Rudgwick, Horsham, West Sussex RH12 3ES
Phone: 01403 823974 Mobile: 078558 10639
Joshua Hall [DipWCF] - Partridge Green
4 Homelands Cottages, Bines Road, Partridge Green, West Sussex RH13 8EQ
Phone: 07910 656399 Email: josh_hall52@hotmail.com
Keith Watson [AWCF BI] - Pulborough
Little Thatch, Toat Lane, Thorn Common, Pulborough, West Sussex RH20 1BY
Contact: 01403 741446 / 07870 662518
Kevin Balcombe [DipWCF] - Midhurst
29 Pretoria Avenue, Midhurst, West Sussex GU29 9PP Mobile: 07808-492602
Kevin Newlyn [DipWCF] - Henfield
97 Meadow Drive, Henfield, West Sussex BN5 9FG Phone: 07738 587525
Kevin Pattenden - Horsham
56 Pollards Drive, Horsham, West Sussex, RH13 5HH Tel: 01403 261563
Kevin White [AWCF] - Hassocks
20 Furzeland Way, Sayers Common, Hassocks, W Sussex BN6 9JB
Phone: 01273 834225 Mobile: 07970 935258 email: kevinwhite@amserve.com
Lee Sadler [DipWCF] - Balcombe
1 Springfield Shaw, London Road, Balcombe, West Sussex RH17 6JF
Tel: 01444 811593 / Mobile: 07843 693209
Mark Hall [RSS] - Horsham
4 Homelands Cottages, Bines Road, Partridge Green, Horsham RH13 8EQ
Tel: 01403 710586
Mark Rees [DipWCF] - Lancing
309 Brighton Rd, Lancing, West Sussex, BN15 8JR
Mobile: 07792 172034 Email: markrees23@ntlworld.com
Martin Hogan [RSS] - Findon
2 New Cottages, Gallops Farm, Findon, Worthing BN14 0RQ Tel: 01903 873348
Martin Littler - [DipWCF] - Worthing
152 Littlehampton Road, Worthing, West Sussex, BN13 1QT Phone: 07968 778461
Mark Spriggs [RSS] - Henfield
Greenfield House, High Street, Henfield, West Sussex, BN5 9DD
Contact: 01403 791000 / 07980 236855 Email: markspriggs55@hotmail.co.uk
Michael Hamer - Pulborough
1 Rushfield Bungalows, High Bar Lane, Thakeham, Pulborough, West Sussex RH20 3EH Tel: 07704 551026
Peter Button - Patching
Selden Blacks, France Lane, Patching, West Sussex, BN13 3UP
Mobile Number: 07973 559856
Peter Fenton [AFCL] - Arundel
40 Church Hill, Slindon, Arundel, West Sussex BN18 0RB Telephone: 01243 814492
Philip Mays [RSS] - Worthing
10 Eaton Court, Gorse Avenue, Worthing, West Sussex BN14 9PQ
Phone: 07747 007337 Email: philipmays@hotmail.co.uk
Rebecca Mabbutt [DipWCF] - Pulborough
84 Riverside, Codmore Hill, Pulborough, West Sussex RH20 1FJ Phone: 07769 735347
Richard Chard [AWCF] - Hassocks
1 Hayleigh Farm Cottage, Streat Lane, Streat, Hassocks, West Sussex BN6 8RU
Phone: 01273 891033 Mobile: 07860 704252 email: toontime2@aol.com
Richard Mitchell [DipWCF] - Horsham
2 Dragons Lane, Shipley, Horsham, West Sussex RH13 8GD Mobile: 07803 035521
Robert Botting [AFCL] - Horsham
2 Britten Close, Horsham, West Sussex, RH13 6RL
Contact: 01403 273400 / 07836 751905
Robert Clark - Appledram
Rymans Forge, Dell Quay Road, Appledram, Chichester, West Sussex PO20 7EE
Telephone: 01243 782692
Robin Tuppen [RSS] - Warninglid
Beggars Bush, London Road, Warninglid, Sussex RH17 5SY
Tel: 01444 461330 Mobile: 07709 19994
Ross Eager [DipWCF] - Shoreham-By-Sea
39 Kings Walk, Shoreham-By-Sea, West Sussex BN43 5LG
Contact: 07808 078498 Email: rosseager@hotmail.com
Roland Dubey [RSS] - Haywards Heath
Chelwood Common Forge, Tanyard Lane, Chelwood Gate, Haywards Heath,
West Sussex RH17 7LX Phone: 07831 432012
Scott Topham [DipWCF] - Shoreham-By-Sea
23 The Drive, Shoreham-By-Sea, West Sussex, BN43 5GB
Phone: 07545 163732 Email: scotttopham@hotmail.com
Simon Harrow [RSS] - Fishbourne
27 Mosse Gardens, Fishbourne, Chichester, West Sussex PO19 3PQ
Phone: 07977 655894
Stephen Cox-Rusbridge [AWCF] - Chichester
Copyhold Farm, Chichester, West Sussex PO20 1LN
Phone: 07974 177905 Email: stephen.coxrusbridge@btinternet.com
Stephen Ludlow-Monk [DipWCF] - Barnes Green
18 The Hordens, Barnes Green, Nr Horsham, West Sussex RH13 0PJ Tel: 01403 730593
Stephen Weller [RSS] - Horsham
Oak House, Worthing Road, Dialpost, Horsham, West Sussex RH13 8NQ
Contact: 01403 710168 / 07860 433154 Email: iridepatapata@yahoo.co.uk
Stuart Packham [DipWCF]- Findon
The Chalet, Horsham Road, Findon, West Sussex, BN14 0UY Mobile: 07786 993823
Wayne Upton [AFCL] - Haywards Heath
Walstead Forge, Snowflake Lane, Walstead, Haywards Heath RH16 2QJ
Contact 01444 482992 / 01444 482115 email: w.e.upton@btinternet.com
Wayne Wood [DipWCF] (Harlequin Forge )- Merston
Harlequin Forge is a farriery service that offers hot and cold traditional shoeing whilst also keeping up to date in the advances of farriery including Bare Foot Trimming, Imprint Shoeing, Epona Plastic Shoeing, Natural Balance Shoeing, Bar Shoes etc
4 Merston Cottages, Merston, Chichester, West Sussex, PO20 1ED Mobile: 07771 666220 Email: info@harlequinforgeandstud.co.uk Website: www.harlequinforgeandstud.co.uk
Find a Farrier in West Sussex - Directory of West Sussex Farriers who shoe and trim horses, Donkeys and Ponies Including experts in Natural Balance hoof care and barefoot trimming for a Horse or Pony