Buckinghamshire - Livery yards, DIY, Full, Grass Livery
We can help you find a livery yard or stable in Buckinghamshire.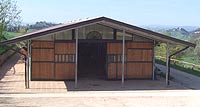 If you are looking to find DIY Livery, Grazing or to rent stables or are looking for Full or Part Livery offering a range of livery facilities including show jumps, indoor school, outdoor arena, field shelters, electric fencing, horse-walkers etc - we have a good selection to choose from.
We have listings for livery yards, stables, equestrian centres and grazing, in Amersham, Aylesbury, Beaconsfield, Buckingham, Chalfont St. Giles, High Wycombe, Iver, Little Horwood, Marlow, Milton Keynes, Mursley, Olney, Princes Risborough, Wicken in Buckinghamshire
Active Equestrian Limited - Milton Keynes
Active Equestrian, The Fieldhouse, Bowstridge Lane, Chalfont St Giles,
Buckinghamshire HP8 4RQ. Telephone 01494 871272
Arabella Farm - Mursley
Whitegates, Whaddon Road, Mursley, Milton Keynes, Bucks MK17 0PL
Telephone: 07971 540307
Bockmer Livery Stables - Marlow
2 Bockmer End Cottage, Bockmer, Marlow, Buckinghamshire SL7 2HL
Telephone: 01491 571284
Bryerley Springs Stables - Milton Keynes
Bryerley Springs Farm, Galley Lane, Milton Keynes, Buckinghamshire MK17 9AB
Telelephone: 01525 261823
Chadwell Hill Farm Livery Stables - Princes Risborough
Chadwell Hill Farm, Lower Icknield Way, Longwick, Princes Risborough HP27 9RL
Telephone: 01844 273250
Chalfont Valley Equestrian - Chalfont St. Giles
Bottom House Farm, Bottom House Lane, Chalfont St. Giles, Buckinghamshire HP8 4EG
Telephone: 01494 876400
Chequers End Equestrian Centre - High Wycombe
Chequers Lane, Cadmore End, High Wycombe HP14 3PQ Telephone: 01494 882259
Collingwood Stables - Milton Keynes
3 Station Road, Bow Brickhill, Milton Keynes, Bucks MK17 9JN
Telephone: 01908 375151
Corham Stables - Princes Risborough
Sandpit Lane, Bledlow, Princes Risborough HP27 9QQ Telephone: 01844 342119
Cross Lane Farm Livery Stables - Chalfont St. Giles
Facilities - post and rail paddocks, All year grazing, Floodlit school and lunging arena.
Cross Lane Farm, Lodge Lane, Little Chalfont, Chalfont St. Giles HP8 4AX
Phone: 01494 870945
Finings Farm - High Wycombe
Finings Lane, Lane End, High Wycombe, Buckinghamshire HP14 3LP
Phone: 01494 882156
Flood Meadow Farm - Grendon Underwood
Grendon Underwood, Bucks HP18 0TA Telephone: 01296 770361
Foxden House Stables - Aylesbury
Foxden House, Main Street, Grendon Underwood, Aylesbury HP18 0SH
Telephone: 07789 938307
Foxley - Finmere
DIY livery - 7 acres with multiple paddocks, post and rail fenced, newly renovated indoor stalls, outdoor exercise arena, refreshment area, water and electricity, Secure/Alarmed barn and tack room.
Foxley, Finmere, Bucks MK18 4AJ
Telephone: Simon or Lisa on 01280 848441 or 07974 673322
Fullers Hill Farm - Amersham
Fullers Hill, Off Copperkins Lane, Amersham, Bucks HP6 5RQ 01494 772428
Hall Acres - Bradenham
The Stables, The Old Rectory, Bradenham, Buckinghamshire HP14 4HD
Phone: Andrew Hall 07876 233924 Robert Hall 07866 437461
Angie Hall 01494 814473
Hartwell Riding Stables Limited - Aylesbury
Range of Livery services from DIY to Full Livery. Floodlit outdoor school.
Oxford Road, Stone, Aylesbury, Buckinghamshire HP17 8NP
Telephone: 01296 747780
Home Close Farm - Aylesbury
Butlers Cross, Aylesbury, Buckinghamshire HP17 0TR Telephone : 01296 622196
Jennings Farm Livery Yard
Littleworth Rd, Burnham, Bucks SL1 8PQ 01753 643625
Liberation Farm - Aylesbury
Berryfields Gated Road, Quarrendon, Aylesbury, Buckinghamshire HP22 4AA
Telephone: 07748 960434
Lower Farm Livery Stables - Olney
British Horse Society approved livery yard. Facillies include:25x40 sand and rubber arena, show jumps, heated rug room, field shelters, secure tack room, coffee area.
Lower Farm, Castle Road, Lavendon, Olney, Buckinghamshire MK46 4JG
website Telephone: 01234 712692
Lower Salden Stables - Little Horwood
Lower Salden Farm, Salden Lane, Little Horwood, Milton Keynes, MK17 0PN
Telephone: 01296 720398
New Woad Livery Stables - Newport Pagnell
New Woad Farm, Northampton Road, Lathbury, Newport Pagnell, Buckinghamshire MK16 8QZ Tel: 01908 616688
Milton Keynes Eventing Centre - Hanslope
Malt Mill Farm, Castlethorpe Road, Hanslope, Milton Keynes MK19 7HQ
Telephone: 01908 511329
Padbury Hill Farm - Buckingham
Padbury, Buckingham, Buckinghamshire MK18 2BN Telephone: 01296 730275
Pyatts Farm Livery Stables - High Wycombe
Livery Yard offering Full and part livery, horse walker, large flood lit arena, turn out.
Pyatts Farm, Lane End, High Wycombe, Buckinghamshire HP14 3NW
Phone: 01494 883666
Scorpio Equestrian - Kingswood
Terry's Dairy, Grendon Road, Kingswood, Bucks, HP18 0QU Phone: 01296 771007
Shardeloes Farm Equestrian Centre - Amersham
Approved by the British Horse Society, facilities include 500 acres of off road riding,
UK chasers x country course, Equine hydrotherapy spa, full range of livery services.Shardeloes Farm Equestrian Centre, Cherry Lane, Amersham HP7 0QF
Telephone: 01494 433333
T Spencer - High Wycombe
The Haven, Hedsor Lane, Wooburn Common, High Wycombe HP10 0JL
Phone: 01628 521896
Tudor Stud Farm Equestrian Centre
Tudor Stud Farm, Chinnor Road, Bledlow Ridge, High Wycombe, Bucks HP14 4AA
www.tudorequestrian.co.uk Telephone: 01494 481377
W H Ivens and Son - Wicken
Full, Part, DIY Livery , Use Of Ménage, 24Hr Supervision.
Sparrow Lodge Farm, Wicken Park Road, Wicken, Milton Keynes MK19 6BZ
Mobile: 07866 537872 Telephone: 01908 571314
Windmill Farm - Chalfont St. Giles
Bowstridge Lane, Chalfont St. Giles, Buckinghamshire HP8 4RG
Tel: 01494 873056
White Acres - Bledlow
20 x 40 outdoor arena, indoor school, lungeing arena, show jumps, x country course
West Lane, Bledlow, Bucks HP27 9PF, Telephone: 01844 347826 / 07702 696190
White Lodge - Iver
White Lodge Stables, Wood Lane, Iver SL0 0LE Phone: 01753 653000
Widmer Farm Stables - Beaconsfield
Widmer Farm, Rawlings Lane, Seer Green, Beaconsfield HP9 2RQ
Phone: 07974 024655

Widmer Equestrain Centre - Princes Risborough
BHS Approved Riding Centre, Riding School and Livery Yard offering Full and Part Livery
Outdoor and Indoor Schools
Widmer Farm, Pink Rd, Lacey Green, Princes Risborough HP27 0PG
Telephone: 01844 275139
W Woodley and Son - Great Kingshill
Spurlands End Farm, Spurlands End Road, Great Kingshill, High Wycombe HP15 6PF
Telephone: 01494 713455
Livery yards in Buckinghamshire, DIY, Full, Grass and Part livery for horses.Stables and yards to rent. Cheap Grazing to rent in and around Bucks.