Dorset Livery Yards - Full, Part, Assisted, DIY and Grass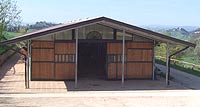 If you are looking a livery yard with Full Part, assisted, DIY Livery or Grazing for your horse or pony in Hertfordshire we have wide choice of equestrian establishments listed here offering a variety of livery facilities including outdoor arenas and indoor schools, cross country courses, show jumps, horse walkers etc to choose from.
We have livery stables, yards,equestrian centres and grazing in Christchurch, Blandford, Wareham and other areas of Dorset.
---
If you own or run a livery yard and would like to be listed on this website please
---
Faunbank Stables - Dorchester
Riding centre, Training centre and Livery Yard. American Barn, Indoor and outdoor schools
Faunbank Stables Crockway Farm Dorchester Road, Maiden Newton Dorchester Dorset DT2 0BY 07927 791207
Hyde Woods Stables - Wareham
Hyde Woods, Hyde, Wareham, Dorset BH20 7NT Phone: 01929 471087
Loop Farm Livery Yard - Blandford
DIY Livery and Grazing. Facilities include: Floodlit Arena, 1.2 mile exercise track. 60 foot round pen, Floodlit car park, Storage for trailers and hay, Dedicated Farrier point.
Loop Farm Livery Yard, Maitland Farmers (Loop) Ltd, The Farm Office, Field Dairy Farm, Spetisbury, Blandford, Dorset, DT11 9EE.
Phone: 01258 857339
Lulworth Equestrian Centre - Wareham
Lulworth Equestrian Centre Kennel Farm, Coombe Keynes, Wareham, Dorset BH20 5QR Office Phone: 01929 400396
Parley Equestrian Centre - Christchurch
Full, Part, Grass and DIY Livery. 65 stables, 60m x 40m sand ménage, lunge pen, floodlit lorry park
Parley Court Farm, Parley Green Lane, Hurn, Christchurch, Dorset BH23 6BB
Phone: 07917 724 052
Rempstone Stables - Wareham
Full or part livery - small private yard. Direct access to hacking and local beach. Good size stables, daily turnout .
Rempstone Stables Studland Road Wareham Dorset BH20 5JQ 07866 593998 report 07974 388421
Shaftesbury Riding School - Shaftesbury
Part, Full, DIY or holiday livery
The Stables, Langdale Farm, Mampitts Lane, Shaftesbury, Dorset SP7 8QG
Phone: 01747 855880 / 07912 793017
Sparrowbush Livery - Blandford
Facilities include: American barn stables, 20×60 fully flood lit all weather menage, cross country course,Show jumps, Indoor area for clipping and farrier etc, lunge pen, Floodlit stable yard with tie up points, Wash down area, Heated tack rooms.
Sparrowbush Livery, Sparrowbush Farms, Blandford, Dorset DT11 9AQ
Phone: 01258 453275 / 07811 336366
Whitehorse Livery - Weymouth
American barns, External Stables, Indoor and Outdoor arenas, off-road hacking, All year round turnout and grazing for liveries
Whitehorse Livery Yard, Osmington Hill, Osmington, Weymouth, Dorset DT3 6ED
Phone: 01305 834314 Mobile: 07793 613226
Livery yards and horse stables in Dorset - Full, DIY, Grass, grazing, assisted and part livery for horses in Dorset.