Wiltshire - Livery Yards and stables - Full, DIY or Grass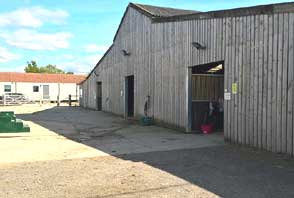 Livery yards, Equestrian Centres and Riding Schools in Wiltshire providing Full, Part or DIY Livery or grazing for your horse or pony.
We have a good selection of equestrian establishments listed here offering a variety of horse livery facilities including outdoor arenas and indoor schools, show jumps, cross country courses, horse walkers, therapy centres, training etc to choose from.
We have livery yards listed in Aldbourne, Bradford-on-Avon, Calne, Chippenham, Colerne, Devizes, Hinton Parva, Marlborough, Pitton, Salisbury, Trowbridge, Warminster, Westbury, Wilton, Wootton Bassett and other areas of Wilts.
PADDOCKS TO LET IN BRATTON
Paddocks for grazing to let in Bratton, Wiltshire. Good road access with water connected, stables, Tackroom, fenced for electric
For more information please contact Anthony - 07983 538810
Wick Yard - Livery Yard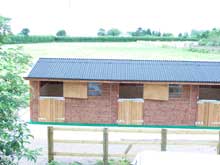 DIY LIVERY Farleigh Wick Between Bath and Bradford-on-Avon
Small, Friendly, private yard, Owners live on site. New All weather school - Post & Rail fencing, electricity & water - Rotated Grazing and All Year turn out. Haybarn, Feed Room, secure Tack room - Trailer parking and hire - Holiday and sickness cover - Lots of safe hacking Paddocks managed with an organic approach and Intelligent worming program

Wick Yard, Bath Road, Farleigh Wick, Bradford-on-Avon BA15 2PU
www.wickyard.co.uk Phone 07730 583 798
---
Breach Lane Equine Centre - Wootton Bassett
Upper Greenhill, Wootton Bassett, Swindon, Wilts SN4 7QR Phone : 01793 854660
Brympton Riding School - Whiteparish
Common Road, Whiteparish, Salisbury, Wilts SP5 2RD. Tel: 01794 884386
Charlbury Farm - Hinton Parva
Church Road, Hinton Parva, Swindon, SN4 0DN Phone : 01793 790065
Crouch Farm Livery Yard - Highworth
British Horse Society Approved Livery Yard
Crouch Farm, Highworth, Wiltshire. SN6 7QS
email: crouchfarmlivery@aol.com Phone: 01793 762489
Downlands Equestrian - Warminster
British Horse Society Approved Livery Stables
The Flat, Downlands Church Farm, Tytherington, Warminster, Wiltshire BA12 7AB
Phone : 01985 840453
Easton Farm Livery - Devizes
We offer part or full livery for a wide range of horses. Facilities include Monarch stables in a large barn, all weather flood lit arena, post and rail fencing, solarium, hot wash down area, rubber matting, automatic drinkers, direct access onto the Marlborough Downs. Friendly, flexible, knowledgeable staff.
Easton Farm Livery, Bishops Cannings, Devizes, Wiltshire SN10 2LR.
Phone: 07711 808873
Ford Farm - Chippenham
Alice and Alex Peternell - Long or short terms Full, Schooling and DIY Liveries. Training in Dressage and Jumping, Outdoor and Indoor Schools, Horses For Sale
Ford Farm Stables, Hinton, Chippenham, Wilts SN14 8HG
E-mail: info@dressagehinton.com Telephone: 01179 372913
Greenacres - Salisbury
Greenacre, Tytherley Road, Winterslow, Salisbury, Wilts SP5 1PZ
Telephone : 01980 862809
Grovely Riding Centre - Wilton
Water Ditchampton, Wilton, Salisbury, Wilts SP2 0JB Telephone : 01722 742288
Harris Croft Livery Yard - Wootton Bassett
Binknoll Lane, Wootton Bassett, Swindon, Wilts SN4 8QS. Phone: 01793 853388
Heywood Equestrian Centre - Westbury
British Horse Society Livery and Training Centre offfering Full Or DIY Livery. Indoor and Outdoor schools and Therapy Treatment Centre.
Heywood Equestrian Centre, Church Rd, Heywood, Westbury, Wiltshire BA13 4LP
Phone: 01373 823476
Hill Top Equestrian - Pitton
Pitton Hill Farm, White Hill, Pitton, Salisbury, Wiltshire SP5 1DY
Telephone : 01722 712543
Hillview Riding Stables - Trowbridge
Hillview Stables, Broughton Road, Holt, Trowbridge, Wiltshire BA14 6QU
Telephone : 01225 783217
Hudds Farm - Bradford-on-Avon
Westwood Road, Bradford-on-Avon, Wilts BA15 2AH Telephone : 01225 865040
Hulberts Greenfarm - Chippenham
Hulberts Greenfarm , Braydonside, Brinkworth, Chippenham, Wilts SN15 5AR
Telephone : 01666 510268
Hurdcott Livery Stables - Salisbury
Winterbourne Earls, Salisbury,Wilts SP4 6HR Telephone: 01980 611276
Ladysmith Equestrian Centre = Swindon
Ladysmith Rd, Chiseldon, Swindon, Wilts SN4 0JB Telephone: 01793 740842
Lucknam Park Equestrian Centre - Colerne
Studs Farm, Lucknam Park, Colerne, Chippenham, Wilts SN14 8AZ
Telephone : 01225 740556
Malthouse Equestrian Centre - Swindon
Malthouse, Bushton, Swindon, SN4 7PX Telephone : 01793 731342
Manor Farm Livery Yard - Marlborough
The Maples, Brunton, Collingbourne Kingston, Marlborough, Wilts SN8 3SE
Telephone : 01264 850177
Manor Farm - Salisbury
Teffont Magna, Salisbury, Wilts SP3 5QY Telephone: 01722 717927
Marden Grange - Devizes
The Street, Marden, Devizes, SN10 3RQ Telephone : 01380 840010
Pewsey Vale Riding Centre - Marlborough
Church Road, Stanton Street, Bernard, Marlborough, Wilts SN8 4LJ
Telephone : 01672 851400
Rein and Shine, Buryhill Livery - Braydon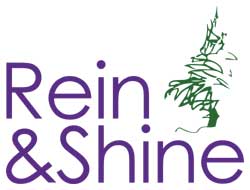 BHS Highly Commended five star livery yard, all liveries are accommodated in a brand new high quality indoor American Barn stables supplied by Monarch Equestrian. Stables are all fitted with automatic drinkers, rubber matting, and anti cast strips. All livery packages include: Hard feed and feeding duties Hay Bedding Evening and nightly checks on horses. Indoor hot and cold wash down facilities.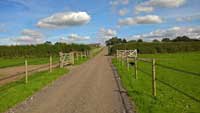 Solarium, Secure alarmed tack room. On site security, with CCTV, owners living on the premises. Horse box and trailer parking. A dedicated livery 20 x40 all weather free to use outdoor manege - if liveries wish to use 40x40 or 60x40 arenas this is subject to conditions and availabilty. Use of jumps in the maneges and jumping field. Rug room.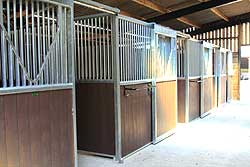 Located between Cirencester and Wootton Bassett. The extensive bridleways network offers safe hacking off road in the Wiltshire countryside. In dryer months the Jumping Field is in use.

Rein and Shine, 1 Buryhill Farm, Braydon, SN5 0AD
Phone: 01666 860068
Southill Stables - Aldbourne
Marlborough Road, Aldbourne, Marlborough, Wilts SN8 2DD Phone : 01672 540110
South Farm Livery Yard - Swindon
South Farm, Ypres Road, Chiseldon, Swindon, Wilts SN4 0JF Phone : 01793 740032
Southview - Bradford-on-Avon
Southview Farm, Bradford-on-Avon, Wilts BA15 1UH Telephone : 01225 863361
Stockley Farm - Calne
BHS Approved Livery Yard.
Stockley Farm Stockley, Calne, Wilts SN11 0NT Tel: 01380 850615
Stonar School Equestrian Centre - Melksham
Cottles Park, Atworth, Melksham, Wilts SN12 8NT Telephone: 01225 701740
The Marlborough Downs Equestrian Services - Marlborough
Granary Cottage, Manton Grange, Marlborough, Wilts SN8 4HH Phone: 01672 513765
Tollard Park Equestrian Centre - Salisbury
Tollard Park Equestrian Centre, Tollard Royal, Salisbury Wiltshire SP5 5PU
email: ali_worden@hotmail.com Telephone: 01725 516249
Warminster Saddle Club - Oxendene
Oxendene, Warminster, Wiltshire BA12 ODZ Telephone : 01985 222395
West Lavington Equestrian - Devizes
High Street, West Lavington, Devizes, Wilts SN10 4JB Telephone : 01380 813734
West Wilts Equestrian Centre - Trowbridge
Melksham Road, Holt, Trowbridge, Wiltshire BA14 6QT Phone : 01225 783220
Wickstead Farm Equestrian Centre - Swindon
Eastrop, Highworth, Swindon, Wiltshire SN6 7PP Telephone : 01793 762265
Widbrook Arabian Stud and Equestrian Centre - Trowbridge
Widbrook, Trowbridge, Bradford-on-Avon, Wilts BA15 1UD
Telephone: 01225 862608
Wiltshire College Equestrian Centre - Chippenham
Lackham College, Lacock, Chippenham, Wilts SN15 2NY Telephone: 01249 466800
Whitehill Liveries - Calne
We are a small friendly yard offering full and part livery. We have excellent facilities on site plus instant access onto the roundway downs for fantastic hacking. All year turnout, 24 hr supervision and 5 star care.
Whitehill Liveries, Whitehill House Stud, Heddington, Calne, Wiltshire, SN11 0PF
Tel: 01380 850292 or 07980 403317
Wiltshire Livery yards, stables - DIY, Full, Grass and Part livery for horses in Wilts. Grazing paddocks and fields for rent