Worcestershire Horse transporters, horsebox and trailer hire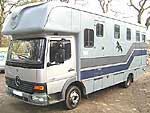 National and international Horsebox and Horse Trailer Hire and Horse Transport operators in Worcester and Worcestershire including fully licenced DEFRA ministry approved operators and self-drive vehicles.
These operators can provide transport to shows, help move your horse to a new livery yard or take a horse for a visit to the vet.
If you have difficulty loading your horse, it is worthwhile phoning and talking to different equine transport companies - some specialise in difficult horses, whilst others may refuse to transport your horse!
Equinelogistics - Horse Transport
Top Barn, Green Farm, Oddingley Lane, Crowle, Worcester, Worcestershire WR7 4AB
Tel:0800 0325660
Front Runner Race Horse Transport
Upper Woods Field Farm, Woodsfield, Madresfield, Malvern, Worcestershire WR13 5BE
Tel: 01905 831161
---
---
Equestrian Travel
21 Drovers Way, Bromsgrove, Worcestershire B60 3PR Tel: 07952 289271
P J and K R Smith-Maxwell Horse Ambulance Service
Phepson Manor, Droitwich, Worcestershire WR9 7JZ Tel: 01905 391206
Worcester and Worcestershire national and international Horsebox and Horse Trailer Hire and Horse Transport operators including fully licenced DEFRA ministry approved operators and self-drive vehicles