Feeding Hay to Horses and Ponies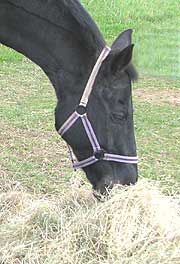 High quality hay can be an excellent source of nutrition for - including protein and calcium - for horses and ponies and is a very palatable feed.
There are many types of hay harvested from grasses including alfalfa, timothy, clover and rye.
Many horse owners advise that Alfalfa hay is the best kind of hay to feed a horse.
Horses and ponies in their natural environment are grazing animals - they spend many hours a day eating grass.
When horses are stabled, or grazing is limited, they need a substitute for the grass they would have naturally eaten. Hay , the most common subsitute- is a mixture of grasses dried until only about 18% of the moisture remains.
WHAT ARE THE MOST NUTRITIOUS TYPES OF HAY TO FEED A HORSE?
The most nutritious hay is that cut before the seed heads have fully matured.
Grass and hay provide your horse or pony with the large amounts of fibre he needs keep his gut healthy and digestive system functioning properly. They should be the predominant type of feed in a horse's diet.
If your horse or pony is stabled making hay available all the times can help to prevent vices such as weaving and crib biting as it prevents boredom and encourages his natural foraging habits.
Most horses will self-regulate the amount of hay that they eat. But some will need their hay restricted to prevent them becoming overweight.
---
---
Many people will soak their horse's hay before feeding to remove dust and spores which can cause coughing.
Unfortunately soaking hay can reduce the nutritional value of hay, as up to 70% of water-soluble carbohydrates and 20% of protein is lost during this process. A better alternative is to steam hay
If your horse develops a cough when fed dry hay it may be worth considering switching to HorseHage, Haylage or a similar equine product.
Advice about the best way of feeding hay to a horse or pony, different types of hay