Berkshire - Full, Part, DIY and Grass Livery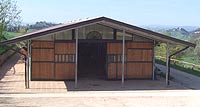 If you are looking to for Full or DIY Livery, Grazing or trying to find stables to rent in Berkshire. There are a wide variety equestrian establishments offering a range of livery facilities including indoor school, outdoor arena, show jumps, cross country courses horse-walkers etc to choose from.
We have listings for stables, livery yards, equestrian centres and grazing, in Ascot, Bracknell, Bradfield, Burchetts Green, Hungerford, Maidenhead, Pangbourne, Reading, Slough,Taplow, Thatcham, Tilehurst, Windsor, Winkfield, Wokingham and other areas of Berkshire.
Banstock House Stables - Maidenhead
Cherry Garden Lane, Maidenhead, Berks SL6 3QD Telephone: 01628 822821
Barossa Farm Riding Stables - Reading
Devils Highway, Riseley, Reading, RG7 1XR Telephone: 01189 883776
Bearwood Riding Centre - Wokingham
Mole Rd, Sindlesham, Wokingham RG11 5DB Telephone: 01189 760010
Bell Farm Livery Stables - Windsor
Bell Lane, Eton Wick, Windsor, Berks SL4 6LH Telephone: 01753 830717
Berkshire College of Agriculture - Burchetts Green
Hall Place, Burchetts Green, Maidenhead, Berks SL6 6QR Phone: 01628 824444
Berkshire Riding Centre - Winkfield
Crouch Lane, Winkfield, Berks SL4 4TN Phone: 01344 883331
Boomerang Stables - Hungerford
West Soley, Chilton Foliat, Hungerford, Berks RG17 0TL Phone: 01488 685389
Boundary Road Stables - Maidenhead
Boundary Road, Taplow, Maidenhead, Berks SL6 0EZ Phone: 01628 602869
Bradfield Riding Centre - Bradfield
British Horse Society Approved Equestrian Centre offering Livery Services for horses and ponies.
The Maltings, Bradfield, Berkshire RG7 6AJ Phone: 01189 744048
Brookfield Equestrian - Warfield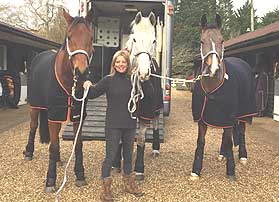 Brookfield Equestrian
Full and part livery based in Warfield Berkshire RG426BH
10 minutes from Windsor

Tel : 07831 815263
Cliveden Stud - Taplow
Cliveden Road, Taplow, Maidenhead, Berks SL6 0HU Phone: 01628 667854
Checkendon Equestrian Centre - Reading
Lovegroves Lane, Checkendon, Reading, Berkshire RG8 0NE Phone: 01491 680225
Brookfield Farm - Bracknell
Warfield, Bracknell, Berkshire RG42 6BH, Phone: 01344 890055
Cloud Stables - Reading
British Horse Society Approved with Floodlit Indoor and Outdoor schools
Church Lane, Arborfield, Reading, Berks RG2 9JA Phone: 01189 761522
Cullinghood Equestrian Centre - Pangbourne
Full, Part, DIY and Grass Livery
Herons Farm, Cullinghood, Pangbourne, Reading, Berkshire RG8 8QA
Phone: 0118 9745228
Fairoak Grange - Thatcham
Ashford Hill, Thatcham, Berkshire RG19 8BL. Phone: 01635 299412
Foxtrot Training and Livery Yard - Ascot
We are a small Exclusive private yard situated in the heart of Ascot, with direct access to miles and mile of off road hacking/ beautiful facilities and friendly atmosphere..
Foxtrot Training and Livery Yard, Prince Albert Drive Ascot Berkshire SL58AQ www.foxtrot-equestrian.co.uk Phone: Lisa 07525 155 408 / 07976 549 294
Gleniffer Stables - Maidenhead
20 Drift Road, Maidenhead, Berks SL6 3ST Telephone: 01628 626615
Hall Place Equestrian Centre - Tilehurst
Little Heath, Tilehurst, Reading Berkshire RG31 5TX Phone: 01189 426938
Hillfields Farm
Park Wall Lane, Lower Basildon, Berkshire RG8 9PE Tel: 01491 672467
Home Farm DIY Liveries - Padworth
Home Farm, Padworth, Reading, Berkshire RG7 4NP Telephone: 0118 9833251
J and S Whitby - Rowley Farm - Slough
DIY and Part Livery, Extensive Grazing, Floodlit Ménage and Off Road Riding
Rowley Farm, Black Park Rd, Wexham, Slough, Berks SL3 6DR
Telephone: 01753 521856, Mobile: 07775 626764

Kimbers Farm Livery Centre - Windsor
Oakley Green Road, Oakley Green, Windsor, Berkshire SL4 4QF
Telephone: 01628 771326
Lakeside Farm Livery - Windsor
Fifield Lane, Winkfield, Windsor, Berkshire SL4 4QA Telephone: 01344 885825
Palmers Riding Stables - Reading
Peppard Road, Emmer Green, Reading, Berkshire RG4 8XD Telephone: 01189 472496
Tally Ho Stables - Winkfield
British Horse Society Approved Riding School and Livery Yard.
Crouch Lane, Winkfield, Windsor, SL4 4RZ Telephone: 01344 893700
The Spanish Bit Riding School and Livery Stables - Dorney Common
Elm Farm, Boveney Rd, Dorney Common, Windsor SL4 6QD Phone: 01628 661275
Tidmarsh Stud Riding Centre - Pangbourne
Full Range of Livery Services - Post Rail Paddocks - Floodlit Rubber Arena - Horse Walker.
Maidenhatch, Pangbourne, Reading, Berks RG8 8HP
Telephone: 01189 744840, Mobile: 07702 247928
Wayside Stables - Maidenhead
Fifield Road, Fifield, Maidenhead, SL6 2PG Phone: 01628 777735
---
---
Berkshire Livery Stables and Livery Yards - Full, Part, DIY Grass, Grazing