Cambridgeshire horse feed merchants and country stores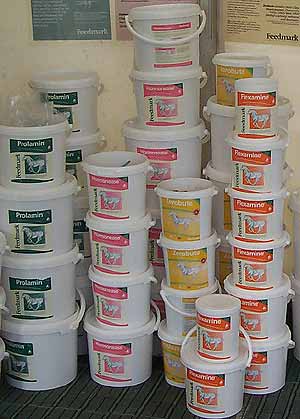 A listing of Cambridgeshire horse feed merchants, equestrian stores, suppliers and stockists of hay, haylage, food, oats, bran, mixes, bedding, straw, shavings, wormers, vitamin and mineral supplements.

Stores listed include Alan's Ark, The Country Store, Highgate Country Store and others in Brampton, Cambridge, Ely, Fulbourne, Huntingdon, Pampisford, Wisbech etc.
If you own or run a Horse Feed Merchants or supply hay or straw in Cambridgshire and would like your company to be listed on this websiteplease
---
Alan's Ark - Fulbourne
Stockists of Baileys and Dengie Horse Foods.
New Shardelowes Farm, Balsham Road, Fulbourne, Cambridgeshire, CB1 5DA.
Tel: 01223 882160
Alan's Ark - Ely
Stockists of Dengie Horse Feed.
Crow Hall Farm - Northfield Road, Soham, Ely, CB7 5UF. Telephone: 01353 722833
Arthur Ibbett Ltd - Huntingdon
Stock some Baileys products and happy to order in any not in stock
River Lane, Great Paxton, Huntingdon, Cambridgeshire PE19 4RD Tel: 01480 473 452
Castle Camp Saddlery - Cambridge
Stockists of Spillers's Horse Feeds
Hill Farm, Bartlow Rd, Castle Camps, Cambridge, Cambridgeshire CB21 4SX
Tel: 01799 584802
The Country Store - Pampisford
12A London Road Ind Est, Pampisford, Cambridge, CB2 4EF Tel: 01223 834666
David's Animal Feeds - Brampton
Stock Baileys and all equestrian and pet products. Open 6 days a week.
The Forge, 41 High Street, Brampton, Cambridgeshire PE28 4TG
Tel: 01480 434389 Fax: 01480 432482 Email: sales@davidsanimalfeeds.com
Dickies Pet Centre - Wisbech
Supplier of Dodson & Horrell Horse and Pony Feeds
40 Elm High Road, Wisbech, Cambridgeshire PE14 0DQ Tel: 01945 428700
Elaine's Country Life - March
Unit 4, Corner Lodge Farm, Knights End Road, March, Cambridgeshire PE15 0YJ
Tel: 01354 658772
A E Day and Son - Huntingdon
Little Catworth Farm, Catworth, Huntingdon PE28 3ER Tel: 01832 710232
J Everitt and Sons - March
10 Primrose Hill, Doddington, March, Cambridgeshire PE15 0SU
Tel: 01354 740524 Fax: 01354 741721
Feedability - Peterborough
Spillers's Horse Feeds stockists also Stock general Baileys range
Kings Farm, Pondersbridge, Peterborough, Cambridgeshire PE7 3DR
Tel: 01733 844677 Fax: 01733 844877 Email: feedability@yahoo.co.uk
A French and Sons Horse Feed Merchants - Cambridge
Gusto Mills, Hintingdon Road, Cambridge, Cambridgeshire CB3 0DL Tel: 01223 276638
Golding Feeds and Nursery Ltd - Wisbech
Hall Road, Outwell, Wisbech, Cambridgeshire PE14 8PE
Tel: 01945 772802 Fax: 01945 773159 Email: taglodge@aol

HG Gladwells and Sons Limited - Peterborough
Peterbrough Feeds, Unit 12 Brassey Close, Peterborough PE1 2AZ Tel: 01733 358002
Highgate Country Store
Highgate Farm, Over Road, Willingham, Cambridge Cambridgeshire CB24 5EU
Tel: 01954 260798 Fax: 01954 261997 Email: barryebpapworth.wanadoo.co.uk
HOOKES HORSE AND PASTURE SERVICES - Peterborough
Paddock & LGE Garden Services - Topping, Harrowing, Rolling- Organic Fertilisers - Other Cultivations Available - Fencing, Elec/Rail, All Types- Rugs Cleaned / Horse Feed
444, March Road, Whittlesey, Peterborough, Cambridgeshire PE7 2DW
Tel: 01733 840694 Mob: 07789 655448
Manor Farm Granaries - Huntingdon
Manor Farm, Brington ,Huntingdon, Cambridgeshire PE28 5AF
Tel: 01832 710235 Fax: 01832 710326 Email: mail@manor-farm-granaries.co.uk
Michael Longland Saddlery
2 Church Way, Alconbury, Weston, Huntingdo,n Cambridgeshire PE28 4JB
Tel: 01480 891034 Fax: 01480 891034 Email: michaellongland@tiscali.co.uk
Nimax Seeds - Wisbech
Horse & Dog Food - Veterinary Supplies -All Pet Accessories - Horse Tack - Farm Feeds
1-3, Sandyland, Wisbech, Cambridgeshire PE13 1TF Tel: 01945 589033
Pets at Home, Horse feed suppliers - Cambridge
Unit 7B Beehive Centre, Coldhams Lane, Cambridge, Cambridgeshire CB1 3ET
Tel: 08456 414174
Pets at Home - Huntingdon
Huntingdon Retail Park, St Peters Road, Huntingdon, Cambridgeshire PE29 7DZ
Tel: 01480 421710 Fax: 01480 436341
Pets at Home, Horse feed suppliers - Peterborough
Bourges Boulevard, Peterborough, Cambridgeshire PE1 1NG Tel: 01733 865920
Peterborough Feeds - Peterborough
Stockists of Dodson and Horrell Horse and Pony Feeds
Unit 12, Brassey Close, Lincoln Road Industrial Estate, Lincoln Road, Peterborough Cambridgeshire PE1 2AZ Tel: 01733 358002
Rollins Farm Supplies - Somersham
Supplier of Dodson & Horrell and Spillers Horse and Pony Feeds
Rollins Farm, St Ives Road ,Somersham, Cambridgeshire PE28 3ER
Tel: 01487 842485 Email: royb5@aol.com
Skylark Country Store and Garden Centre - March
Dodson & Horrell stockists.
Manea Road, Wimblingdon, March, Cambridgeshire PE15 0PA
Tel: 01354 741212 Email: skylark@skylark.plus.com
Somersby House Tack Shop - Huntingdon
69 Maid Street, Great Gidding, Huntingdon, Cambridgeshire PE28 5NU
Tel: 01832 293426 Email: tackshop@fsmail.net
The Country Store
Supplier of Dodson and Horrell Horse Feeds.
Unit12A, Industrial Estate, London Rd, Pampisford CB22 3EE
Tel: 01223 837977 Email: Fred@thecountrystore.co.uk
The Loose Box - Wisbech
Dodson & Horrell Horse Feed stockists
Turnover Farm, Decoy Road, Gorefield, Wisbech, Cambridgeshire PE13 4PL
Tel: 01945 870749 Email: P9ear@aol.com
Warboys Pet Supplies - Huntingdon
Equine Feed Merchant.
Midfeder Farm, Heath Road, Warboys, Huntingdon, Cambridgeshire PE28 2UJ
Tel: 01487 824450 / 822047 Email: porter717@btinternet.com
Willow Grange - Cambridge
Willow Grange Farm, Ely Road, Chittering, Cambridge, Cambridgeshire CB5 9PL
Tel: 01353 649573 Fax: 01353 649573
Cambridgshire horse feed merchants, horse feed suppliers, buy equine supplements.