Cambridgeshire Livery yards, stables, DIY , part, grazing
We can help you find the right livery yard or stable in Cambridgeshire for you and your horse's requirements.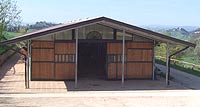 Whether you are looking for DIY, training livery, competition, grazing or to rent stables or are looking for Full or Part Livery offering a range of livery serices including grooming, turnout, tack cleaning, indoor schools, gallops, cross country fences, off road hacking, outdoor arenas, lungeing pens, horse-walkers etc - you should be able to find what you are looking for here. If the Livery Yard does not currently have vacancies then they may be able o put you on to a waiting list.
Livery yards, grazing, stables and equestrian centres in Barton, Cambridge, Chatteris, Ely, Fen Drayton, Huntingdon, Oakington, Peterborough, Soham, Somersham, Whittlesford, Wisbech and other areas of Cambridgshire.
Ashwood Farm Livery Stables - Wisbech
Ashwood Farm, Common Road, Walton Highway, Wisbech, Cambridgeshire PE14 7DG
Tel: 01945 585055
Cheyney Farm Livery - Wisbech
Cheney Farm, Garden Lane, Wisbech St. Mary, Wisbech, Cambs PE13 4RZ
Phone: 01945 410158
College Farm Livery Yard - Fen Drayton
Facilities include - large stables, all weather canter track , 70 m x 30m Flood lit arena, lunging pen, all year round turnout, Horse shower with warm water, secure tack room, off-road hacking, kitchen and toilet facilities, hard standing car park
Mrs Victoria Crowley, College Farm Livery Yard, Swavesey Rd, Fen Drayton, Cambridgeshire CB24 4SE Telephone : 07740 301204
Dykelands Livery Stables - Peterborough
Dykelands, The Common, Crowland, Peterborough, Cambridgeshire PE6 0HL
Telephone: 01733 211530
Fenland Livery Stables - Wisbech
DIY, Part & full livery available. Flood lit outdoor school. X country course gallops, off road hacking. Show jumps. Dressage arena and onsite tack shop
Redmore bank, Begdale Road, Elm, Wisbech, Cambridgeshire PE14 0AZ
Phone: 01945 860 705
Firs Farm Equestrian - Caxton
Firs Farm, St Peters Street, Caxton, Cambridge, Cambridgeshire CB23 3PJ
Telephone: 01954 718145
Hawthornes Equestrian Centre - Somersham
Pidley Road, Somersham, Huntingdon, Cambs PE28 3ES Phone: 01487 843337
Keeble Cottage Equestrian Centre - Oakington
Keeble Cottage, Longstanton Road, Oakington, Cambridge, Cambridgeshire CB24 3AB
Telephone: 01223 232298
Long Drove Dressage Centre - Huntingdon
Long Drove, Somersham, Huntingdon, Cambridgeshire PE28 3HY
Phone: 07971 187955
Lords Bridge Equestian Centre - Barton
Wimpole Road, Barton, Cambridge, Cambridgeshire CB23 7AE Phone 01223 262343
Mount Pleasant Livery - Chatteris
Small friendly yard providing full or livery with all year round turn out on over 20 acres of mature post and rail fenced pasture. Facilities include new 20m x 40m floodlit arena, Post and rail fencing. Set of BSJA show jumps, off road hacking. FEI PSG British Dressage dressage trainer available for tuition. Livery costs from £20 per week.
Mount Pleasant Livery, The Old Farmhouse, Sixteen Foot Bank, Chatteris, Cambridgeshire PE16 6XN email: mountpleasantlivery@sky.com Phone : 01354 696764
Old Tiger Stables
Full, working and D.I.Y livery. Facilities: 40m x 20m outdoor arena, indoor school. Northfield Rd, Soham, Ely, Cambridgeshire CB7 5UF Phone : 01353 720125
Salix House Livery Stables - Huntingdon
Salix House, Hamerton Rd, Alconbury Weston, Huntingdon, Cambridgeshire PE28 4JD
Telephone: 01480 890782
Scutches Farm Stables - Whittlesford
DIY Livery with all year round grazing and floodlit arena with a rubber surface.
Scutches Farm Stables, High Street, Whittlesford, Cambridge, Cambridgeshire CB22 4LT
Telephone: 01223 830990
Sedgeway Equestrian Centre - Ely
Sedgeway Business Park, Common Road, Witchford, Ely, Cambridgeshire CB6 2HY
Telephone: 01353 654100
Sissons Farm Equestrian Centre
Sissons Farm, Thorny Road, Peterborough, Cambridgeshire PE6 7NT
Telephone: 01733 810383
Tower Farm Livery Stables - Little Downham
Tower Farm, Tower Road, Little Downham, Ely, Cambridgeshire CB6 2TD
Telephone: 01353 699765
South Cambridgeshire Equestrian Centre - Barrington
Cambridge Road, Foxton, Barrington, Cambridgeshire CB22 7RN
Phone 01763 263213
Truesdale Stables - Peterborough
Truesdale Lodge, Deeping Road, Baston, Peterborough, Cambridgeshire PE6 9NW
Telephone: 01778 560265
West Wratting Park Stud Livery Stables - Cambridge
9 The Common, West Wratting, Cambridge, Cambs CB21 5LR Phone: 01223 290808
Witcham Equestrian Centre - Ely
Mepal Road, Witcham, Ely, Cambridgeshire, CB6 2LD Phone 01353 777588
Woodhurst Livery Stables - Huntingdon
Pennyfarthing Cottage, South St, Woodhurst, Huntingdon, Cambridgeshire PE28 3BW
Phone: 01487 822331
Cambridgeshire Stables - Grazing, Grass, DIY, Full and Part livery yards for horses