What to wear for Mountain and Moorland showing Classes
CORRECT TURNOUT FOR RIDER IN RIDDEN MOUNTAIN AND MOORLAND CLASSES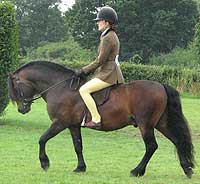 For Mountain and Moorland showing classes the judge expects to see the rider dressed in a smart, workmanlike turnout.
Although correct turnout, smart riding clothes, tack and saddlery are not the only things that make a winning performance, a professional look to your turn out might make the difference between your horse or pony winning a showing class and coming second.
The following is the correct riding wear and accessories for a rider showing a horse or pony in a Mountain and Moorland class:
WHAT SORT OF RIDING HAT?
A hard velvet riding hat should always be worn. Always check the rules for the show that you will be competing at.
Many shows will specify that hats conforming to current safety standards must be worn and that chin straps must be fastened. Other shows may let you compete in a "Beagler" type of riding hat.
Hairnets should be worn to keep long hair tidy.
RIDING JACKETS
Tweed riding jacket, preferably in brown or green colours worn with a plain white, light coloured or striped shirt. A tie should be worn which compliments the riding jacket. A Stock should not be worn in a Mountain and Moorland showing class.
A waistcoat is optional, canary coloured waiscoats do look smart.
BREECHES, JODPHURS AND BOOTS
Beige or canary jodhpurs or breeches
Wear long leather riding boots if you are over 16 years of age, and short leather jodphur boots with jodhpur clips if aged under 16 years or riding small breeds of pony (whatever the rider's age) .
Black or brown plain leather riding gloves should always be worn.
It is correct to carry a show cane, this should be brown or black. However it is not compulsory.
AFFILIATED MOUNTAIN AND MOORLAND CLASSES
Affiliated Mountain and Moorland classes generally require you to wear a hat to a specific standard when riding a horse or pony, whatever the policy of the show organisers - check the latest relevant society rules.
CORRECT TURNOUT FOR A HANDLER IN HAND MOUNTAIN AND MOORLAND CLASSES
For in-hand classes the handler of the pony or horse should wear plain straight or boot cut trousers. The colour of the trousers should contrast with the colour of the horse's legs. If the horse has dark legs the trousers should be beige, if the horse has white or light legs the trousers should be dark. This will help to show off the horse or pony's legs to the judge.
For Highlands, especially if showing in Scotland, tartan trousers or a kilt are preferred.
A tweed riding jacket or waistcoat should be worn.
A shirt and tie and gloves are worn and a show cane carried as in ridden classes.
Footwear needs to be smart and comfortable to run in, choose leather jodphur or paddock boots to match your trousers. Trainers can be worn if they are discreet.
Headwear wear either a 'cowboy style' leather hat or velvet riding hat. A velvet hat with no harness or straps can be worn, but this offers less protection to your head than wearing a crash hat, which if worn must have all straps securely done up.
---
---
What to wear for Mountain and Moorland showing Classes, correct turnout for showring