Horse Transport, Horsebox and Trailer Hire in Yorkshire
National and International Horse Transporters, Horsebox Hire and Horse and Pony Trailer Hire companies and operators in Yorkshire - self-drive vehicles to fully licenced and insured DEFRA Ministry Approved horse transport and horsebox hire operators.
Check that the horsebox hire or horse transport operator that you choose to hire holds a valid certificate of competance and that the horsebox and driver are fully insured.
If you own or run a horsebox hire or horse transport company in Yorkshire and would like to be listed on this website please
Oooves on the move Equine Transport - West Yorkshire

3.5T West Yorkshire DEFRA approved Carry up to 16.2hh Competitive prices
Phone: 07758 198022 email: Ooovesonthemove@live.co.uk
website: www.ooovesonthemove.weebly.com
Simon and Lisa Clayton
Operators no: OB1062117. Regular journeys to Scotland, Southern England
Simon and Lisa Clayton - Phone: 01723 870686
A & L Grant Horse Transport - Ripon
Transport all types of horses nationwide and throughout Ireland and Europe. Horse transport to Shows, Sales, Racing, Stud and Vet runs. Will attend breakdowns and emergency call outs.
Low Foulgate Farm Bramley Grange Grewelthorpe Ripon North Yorkshire HG4 3DW T: 01765 658783 M: 07760 545770 M: 07710 825836
A D Brown Racehorse Transport - Malton
Lilac Farm, Yedingham, Malton, North Yorkshire YO17 8SS Tel: 01944 728090
Carl Brown Haulage - York
Horse Transporter Operators
Cherry Tree Cottage, Main St, Bilbrough, York, North Yorkshire YO23 3PH
Tel: 01937 530100
J Buck - Wakefield
122 Newmarket Lane, Stanley, Wakefield, West Yorkshire WF3 4BY
Tel: 07703 465117
J Buck - Doncaster
Merryville Farm, Fosterhouses, Doncaster, South Yorkshire DN7 5LE
Tel: 01302 842723
Equilogical Horsebox Trailer Hire - Dewsbury and Boroughbridge
Equilogical work with Ifor Williams products.
Dewsbury, West Yorkshire & Boroughbridge, North Yorkshire Tel: 01423 326583,
Fax: 01423 326583 , Email: info@equilogical.co.uk
Mule Train Equine Transport - Wakefield
Gawthorpe Lane Kirkhamgate Wakefield West Yorkshire WF2 OSR
Telephone: 07754 685 785 Mobile: 07754 685 785 Fax: 01924 379 477
A M Naughton - Richmond
Horse Transport - Nationwide and European - DEFRA Approved - Fully Licensed - Established Since 1990 - Professional Reliable Service .
High Gingerfield, Hurgill Road, Richmond, North Yorkshire DL10 4TD Tel: 01748 822803
Greg Roberts Professional Horse Transport
West Yorkshire based family-run business run by horse owners for horse owners. Licenced and insured Mr. Greg Roberts
Phone: 07986 173299
Holme Equestrian Services - York
Experienced Professional Serv. - DEFRA Approved - Fully Insured - CCTV Monitored In Transit - Competitive Prices - National and International
The Croft, 44, Back Lane, Holme-On-Spalding-Moor, York, North Yorkshire YO43 4AW
Tel: 01430 860346 Mobile: 07932 163577
Monarch Horse Transport - Scarborough
4 Jubilee Terrace, Scalby, Scarborough, North Yorkshire YO13 0NS Tel: 01723 362855
North Yorkshire Horse Transport - Northallerton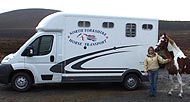 DEFRA registered & approved, Fully authorised & insured. Vehicle inspection and approval with the Freight Transport Association. Covering England, Ireland and Europe. 24 hour call out service.
North Yorkshire Horse Transport, The Glen Stud, Little Lane, Water End, Brompton, Northallerton, DL6 2UB
email: sales@northyorks-horsetransport.com
Telephone: 07841130888
P.J Equine Services - Otley
2 Riffa Cottages, Leathley, Otley, West Yorkshire LS21 2PR Tel: 0113 284 1088
Tara Horse Transport - Selby
Highgate, Foggathorpe, Selby, North Yorkshire YO8 6PX Tel: 01757 288009
A P Wise Horse Transport - Leyburn
21a Maythorne Estate, Leyburn, North Yorkshire DL8 5DT Phone: 07919 911677
Woodend Horse Transport - York
Woodend Cottage, Buttercrambe Rd, Stamford Bridge, York, North Yorkshire YO41 1AP
Phone: 01759 373584
Yorkshire Horsebox hire, Horse transport operators, horse and pony trailer hire, Self drive horsebox hire and horse trailer hire in Yorkshire. Transport Horses to shows.