What Supplements are best to Feed a Veteran Horse?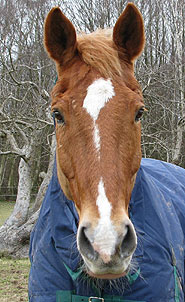 A veteran or senior horse or pony may need a specialised equine feed supplement as it grows older.
The changes in a veteran horse or old horse mean that even when a senior horse or pony in his twenties or late teens is relatively healthy, his organs and body systems function less efficiently than in his younger years.
Also older horses don't metabolize and detoxify the food that they eat as effectively as a young horse or pony.
Although most horse feeds for veteran horses contain a balanced mix of vitamin supplements if your horse has difficulty eating these mixes and you can only feed softer feed you may need to add a supplement.
CHOOSE AN EQUINE FEED SUPPLEMENT HIGH IN ANTIOXIDANTS
For a veteran horse choose an equine feed supplement which is high in antioxidants, such as copper, zinc, selenium and manganese. Turmeric is also high in anti-oxidants.
A good feed supplement for a senior horse should also contain vitamins A, C and E.
Antioxidants are of benefit to the older horse as they can help to neutralise any free radicals before they damage the horse's body tissues.
A supplements containing anti-oxidants can help to boost a horse or pony's immune system.
BIOPLEX OR CHELATED MINERALS
In addition, look for supplements containing bioplex or chelated minerals.
These are minerals bound to organic proteins, and are absorbed far more efficiently than inorganic minerals.
ESSENTIAL FATTY ACIDS
Providing your horse or pony does not suffer from liver problems, you can also feed him essential fatty acids, such as linoleic and linolenic acid. These occur in unprocessed oils which can be purchased from horse feed merchants. Feed about a cup full of oil a day - split beween 2 or 3 feeds
Essential Fatty Acids help to control inflammatory problems - such as arthritis.
GLUCOSAMINE AND MSM FEED SUPPLEMENTS FOR VETERAN HORSES
Other types of equine feed supplements that you could consider for a senior horse are supplements containing Glucosamine and Chondroitin.

Glucosamine can help to control inflammatory processes.
Chondroitin inhibits destructive enzymes and may increase production of quality cartilage.
PROBIOTICS
Probiotics helps older horses to digest their feed better.
AYURVEDA
Ayuvedic herbal supplements can also help an older horse that has problems such as Arthritis
What Supplements are best to Feed a Veteran Horse? Benefits of feeding glucosamine, probiotic and Chondroitin supplements to senior horses.