Glucosamine - A Supplement to Help Relieve Arthritis in a Horse or Pony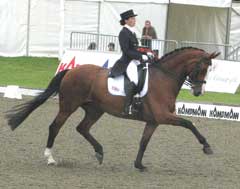 Equine Glucosamine feed supplements are widely recommended by vets to be fed to a horse or pony suffering from arthritis.
Glucosamine is a naturally occuring substance which is found in the cartilage and other connective tissues in a horse or pony's body.
It is a type of sugar which is produced in the body from glucose along with glutamine - an amino acid.
Glucosamine is used by the horse's body to repair & maintain cartilage in the joints.
Glucosamine also plays an important part in controlling the inflammatory processes that occur within a horse's body.
As a horse or pony ages its natural production of glucosamine slows down - feeding an equine vitamin supplement which contains glucosamine can help to protect a horse or pony from the effects of this ageing process.
USE OF GLUCOSAMINE FOR OSTEOARTHRITIS IN A HORSE OR PONY
In a pony or horse with osteoarthritis, the cartilage which cushions the joints loses its elasticity and becomes stiff - causing restricted movement.
This loss of elasticity in the cartilagae makes the horse or pony's joints more prone to damage as it loses the cushioning protection.
This loss of cushioning can lead swelling, pain and result in further deterioration, loss of movement and lameness.
If a glucosamine supplement is regularly added to a horse's feed production of cartilage within the horse's joints is stimulated.
This production of cartilage can slow down the deterioration of the joints and in many cases an improvement in the horse's movement is seen after feeding an equine glucosamine supplement.
HOW MUCH GLUCOSAMINE SHOULD YOU FEED TO A HORSE?
It is generally recommended to feed a horse that has osteoarthritis at least 10 grams of glucosamine a day.
This amount of glucosamine can be increased - good results have been seen with a daily dose of 30 grams of glucosamine.
WHICH GLUCOSAMINE SUPPLEMENT SHOULD YOU FEED
Equine Glucosamine supplements for horses often also contain chondroitin sulfate which gives the cartilage elasticity and/or methylsulfonylmethane (MSM).
These combinations of ingredients help to provide the maximum benefit to a horse or pony suffering from arthritis.
Please check the source of the glucosamine when buying a supplement - some glucosamine supplements are manufactured using shark?s cartilage despite all species of sharks being under threat.
Sources of glucosamine such as shellfish are more ethically produced, are sustainable and are as effective as supplements manufactured from shark's cartilage.
Glucosamine - Benefits of this feed supplement to relieve Osteoarthritis and Arthritis in a Horse or Pony and help to improve joint flexibilty